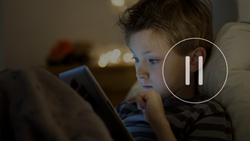 Thanks to Securly, our parents monitor this environment and shape their child's screen-time into being a productive experience
(PRWEB) July 14, 2016
Parents can now manage their child's online activity on school-issued devices with Securly's new "Pause Button". Though parental controls have existed for a while, the phenomenon of devices coming home from school is new. The problem of what parents could do to address concerns around screen-time on these devices was hitherto unsolved. In response, Securly invented parental controls for school-owned devices. Their new mobile app allows parents to disable Internet activity with a single tap. This free product provides a simple solution for concerned parents who feel their child is spending too much time on school issued devices at-home.
Given its potential consequences, device over-usage has become a major concern for 21st century parents. Research has linked rising numbers of childhood obesity, disrupted sleep patterns, and under-developed motor/cognitive function to device overexposure. Results vary greatly on this topic, and others cite that device usage is actually beneficial to child development. Essentially, moderation is key.
However, it is impossible for parents to monitor their children 24/7 for online gaming & other time sinks. Thus, Securly's new Pause Button is an easy way for parents to moderate their child's online activity. The "Pause Button" is new to Securly's evolving suite of parental controls; 75+ school districts across the country have already signed up to be "Partner Districts" for the launch of their Parent Portal and App.
These improvements have received praise from Securly's customer base. Says Phil Hintz (Director of Technology at Gurnee and the recipient of ISTE's 2015 Award for Outstanding Leadership) on his District's decision to go with Securly - "We chose Securly this year because of its unmatched ability and top notch commitment to not only keep our students safe, but also to bring our parents into partnership in monitoring their children's Internet activity on a 24/7 basis ... Thanks to Securly, our parents monitor this environment and shape their child's screen-time into being a productive experience."