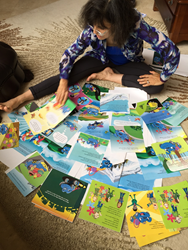 Cute story to introduce kids to the options we have to make the world (and Gary) go. Book can be used with younger children to start a discussion about energy and the advantage of oil and gas for Gary over some other energy sources.
Houston, TX (PRWEB) August 10, 2016
Gary loved going downhill. Downhill he went fast.
But Gary had a problem he could not get past.
Gary the Go-Cart: Wind Blows compares the reliability and environmental efficacy of oil and gas to wind energy.
The book is written by BB Denson and illustrated by noted Brazilian artist Sidnei Marques. This fictional story, the first in a planned series, compares Gary the Go-Cart's ability to travel and earn his living using oil and gas to how Gary would fare using wind energy. Gary, and by extension the reader, learn how oil and gas is a more reliable form of energy, as well as how wind energy can be harmful to the environment—particularly bird populations.
Gary the Go-Cart: Wind Blows is available worldwide in both hardback and paperback at all online distributors including Amazon and Barnes and Noble and by pre-order at bookstores everywhere.
ABOUT THE AUTHOR:
BB Denson is an engineer with many years of experience in environmental science. A true passion for the environment led her to begin working in this industry. Ms. Denson believes that misinformation about what is good for the environment coupled with the complexity of current messages about the oil and gas industry has caused unnecessary and unearned bias against oil and gas products. She wants to make the point so simple that even a child can understand, which led to the creation of the Gary the Go-Cart series.