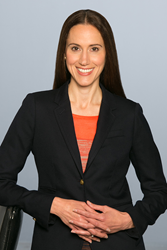 Her aptitude for real estate marketing and her knowledge of the Bay Area will be a credit to Paragon. She will play a pivotal role in leading and contributing to our annual priorities and initiatives.
San Francisco, CA (PRWEB) July 14, 2016
Paragon Real Estate Group has appointed 16-year experienced real estate marketing expert, Sonia Roll to Vice President of Marketing.
Sonia joins from real estate public relations firm, Pike & Company where she managed media relations for Tishman Speyer's LUMINA, Sares Regis Group, Allen Matkins, and BONE Structure.
Sonia will work with Paragon's CEO and Board to develop and implement marketing and communication strategies to further propel Paragon Real Estate Group's position as a leader in the real estate industry. Sonia will oversee the company's marketing, PR, digital marketing, social media, presentations, and client engagement for the company's three regional offices, San Francisco, Danville, and Marin as well as Paragon Commercial.
Prior to her time at Pike & Company, Sonia spent more than 15 years at global commercial real estate brokerage firm, Colliers International, where she served as its Director of Marketing for the U.S. Western Region before moving the U.K. and serving as its Marketing and Communications Manager for Colliers' 110 offices in 42 countries throughout the EMEA (Europe, Middle East, and Africa) region.
Bob Dadurka, Paragon Real Estate Group's Chief Executive Officer, commented, "Paragon Real Estate Group continues to recruit the best agents in the Bay Area. For this reason, it was imperative that we have a marketing thought leader to continue our legacy developing innovative sales tools and resources for our agents and clients. That's where Sonia steps into the picture."
"Her aptitude for real estate marketing and her knowledge of the Bay Area will be a credit to Paragon. She will play a pivotal role in leading and contributing to our annual priorities and initiatives."
About Paragon Real Estate Group
Paragon is a locally owned and managed real estate company in the Bay Area that conducts business across all market segments – residential and luxury home sales, investment and commercial property sales and leasing, new home sales and rentals. Having completed its 11th year in business, Paragon currently brokers over $1.9 billion in annual Bay Area real estate sales.
Visit: http://www.Paragon-RE.com , 1400 Van Ness, San Francisco, CA. 94123. 415-738-7000