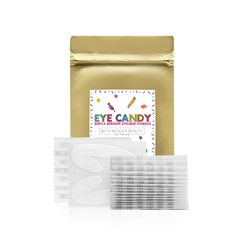 LOS ANGELES, CA (PRWEB) July 13, 2016
Beth Bender Beauty is proud to announce the launch of Eye Candy Gentle Adhesive Eyeliner Stencils, the first ever, hands-free, adhesive eyeliner stencils created by Beth Bender, her son, Paolo Marchica and key Makeup Artist, Aubrey Marino.
"We are continuously striving to innovate and develop new beauty products and tools that will help and inspire women everywhere and with our newest Eye Candy Gentle Adhesive Eyeliner Stencils, I believe we have achieved this," says Beth Bender, Founder and President of Beth Bender Beauty.
Eye Candy Gentle Adhesive Eyeliner Stencils are made from a hypoallergenic, gentle material that are easy to apply and gentle to remove. The innovative design works with any eye shape or eyelid, allowing users to create unique eyeliner and eye makeup looks with ease. Bender adds, "Our newest stencils are hands-free and give the user even more freedom to create endless looks, from rainbows and stripes, to gradients designs, sexy polka dots and so much more."
Eye Candy eyeliner stencils are suitable for both beginners and professional makeup artists where time is always crucial, and creating perfect eyeliner looks in a fraction of the time is key. Eye Candy eyeliner stencils make the perfect travel companion and help achieve symmetrical eyeliner looks with ease. They are a true testament to Bender's mission of making beauty assessable and inspiring to women of all ages. In addition, Beth Bender Beauty has equipped their website with a number of video tutorials, making it even easier for anyone to apply Eye Candy and create trendy, stylish looks effortlessly.
Eye Candy Gentle Adhesive Eyeliner Stencils are launching exclusively via Beth Bender Beauty's website, bethbenderbeauty.com, and are sold in two kits; the Starter Pack, which includes 14 sets (28 stencils total) and retails for $9.99 and the Pro Pack, which includes 36 sets (72 stencils total), retailing at $19.99. Each pack comes with step-by-step instruction cards and pro tips from Beth Bender and Key Makeup Artist, Aubrey Marino.
About Beth Bender Beauty
During her six-year tenure as one of Bobbi Brown's lead makeup artists, Beth Bender was responsible for making women of all ages and skin types look and feel beautiful. It was during this period, after watching so many clients struggle to draw the perfect line on their eyes, that Beth was inspired to design and create the world's first ever Eyeliner and Eye Makeup Stencils.
The Original Beth Bender Beauty Eyeliner and Eye Makeup Stencils create both a perfect smokey eye, as well as the famous and signature cat eye look.
While living in NYC, she worked on numerous fashion shows, editorial shoots, makeup panels and a national pop music tour. Regular bookings as a makeup artist gave her the financial freedom to focus on the creation of her revolutionary beauty tool.
In 2011 she partnered with her son, Paolo Marchica to expand the Beth Bender Beauty product line and make the products readily available to customers worldwide. Paolo's expertise in marketing, business strategy and multimedia has put Beth Bender Beauty in the forefront for creating unique and necessary beauty tools to give women the confidence they need when it comes to makeup and beauty.
All Beth Bender Beauty products are designed to address the needs of women everywhere, who want to look and feel fabulous, by enhancing their own natural beauty. When she is not traveling, spending time with her family, or working on set, Beth is hard at work developing new products, colors and ideas.
For more information, please visit: bethbenderbeauty.com