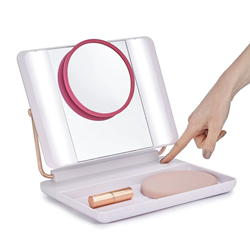 Los Angeles, CA (PRWEB) July 14, 2016
The recent launch of the new J.O.I. SPOTLITE HD Mirror, touting the brand message "Just Own It!", is encouraging women to own their own look by giving them an unprecedented professional edge in how they apply to achieve flawless results. This revolutionary new beauty tool provides a high clarity, multi-magnification mirror set against a frame with tilt and 360-degree rotation flexibility, two magnetic detachable accessory mirrors, and a powerful and dimmable LED "natural daylight" illumination to effectively eliminate the many easy mistakes everyone is prone to when applying make-up. Its sleek, modern, "laptop"-like case and battery or electricity-powered capabilities give it an added benefit of convenient portability. All these advanced features, combining superior functionality and performance, design and value, elevate the J.O.I. SPOTLITE HD Mirror beyond other brands in the market, most of which are either exorbitantly priced, have poorly-lit LED, or altogether unlit.
According to beauty experts, a key aspect to achieving the ideal makeup lies in working with the most accurate reflection under natural daylight. Different kinds of light spectrums and temperatures can easily set the stage for unwanted consequences from over compensating with foundation or color to using incorrect shades. This has become even more important recently with advances in high definition camera technology. The J.O.I. SPOTLITE HD Mirror was specifically conceived to deliver what modern women need by providing an accurate view of skin tone as well as make up and lip shade colors, anywhere, at any time of the day or night. It's a beauty must-have for everyone - from beauty pros like makeup artists, actresses and models to busy career women and home makers - for achieving pristine and gorgeous makeup for any occasion including work, dates, red carpet events or even for just taking everyday selfies.
The J.O.I. SPOTLITE HD Mirror was created by design engineer and innovator Andrea Alli through her UK-based design studio BARE Studio. Andrea conceived the product following a speaking engagement where she appeared in front of a capacity crowd of over a thousand delegates. To her embarrassment when viewing a video of the event, her makeup, applied under imperfect conditions, was overdone. Her consequent research into the market showed the lack of products that adequately addressed this common problem. She brought together a large group of women to get a broader sense of their concerns before taking considerable time to meticulously develop and perfect her idea. The result is among the beauty industry's most innovative product in years. Limited time accessible pre-order prices in the personal ($69.99) or professional ($89.99) models, with "natural daylight", dimmable LED 10-times brighter than other brands, up to 10x magnification, plug-in or cordless portability, power adapter, color cases in color cases in "Blush", "Pearly" or "50 Shades", with or without travel pouch, J.O.I. SPOTLITE HD Mirror is available online at http://www.wearejoi.com