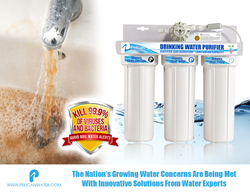 DeLand, Florida (PRWEB) July 13, 2016
Florida-based Pelican Water Systems is pleased to announce their newly released drinking water purification filter system.
In the wake of the Flint, Michigan, water crisis and increasing water quality problems across America, Pelican Water Systems felt a deep seated responsibility to create a cost-effective water purification system that is simple to use and incredibly effective. The result is Pelican's Drinking Water Purifier. It is able to reduce up to 99% of many household water contaminants including:

Bacteria
Viruses & cysts
Chlorine
Lead
Class 1 Particulate
Additionally, the water purification system removes countless types of organic compounds also found in household water.
The under-counter system features simple, no drain line installation. This is an improvement over other reverse osmosis systems that can have some level of water waste. This product is waste free and does not require a drain.
Each replaceable filter lasts roughly six months, or 1,000 gallons of water filtration. Additionally, the system comes with a mechanical flow meter. This meter will restrict water flow once it becomes unable to continue filtering water. This safety feature means the consumer will always know when it is time to replace the filter and will never unknowingly ingest contaminated water. Because the meter is mechanical, it will continue to work during boil orders and power outages. The system comes in three faucet colors.
The Pelican Water purifier system is made in the U.S. and is one of the first systems to meet the Environmental Protection Agency's (EPA) guide standards for microbiological purifiers. The triple-filtered design is WQA-certified and comes with Pelican Water's 90-day money-back "Try it-Love it" guarantee.
In addition to the water purification filtration system, Pelican Water is pleased to offer an in-home rapid results water-testing kit. This product, which retails for $99, identifies 12 common containments found in household water supplies including copper, chloride, bacteria, and fluoride. The test offers an industry leading seven-day turnaround time. As a leading player in the market, Pelican Water offers a range of water tests, with the $99 Rapid Test being the most popular.
About Pelican Water Systems
PelicanWater.com is the official, factory-direct retail website for Pelican Water Systems, providing professional knowledge and leading technologies in whole house water filtration, countertop water filtration systems, UV bacteria disinfection systems, as well as salt-free water softening and conditioning systems. Pelican Water products use cutting-edge technology and enable customers to go green by eliminating wasteful and harmful salt brine discharge that is polluting our valuable fresh water resources. Pelican Water is also proud to offer under-counter reverse osmosis systems that are small enough for practical use in RVs and marine vessels. For over a decade, Pelican Water has stayed true to their mission statement: being a company that helps families enjoy cleaner, safer, better-tasting water in their homes in an environmentally friendly way. Pelican Water has been and continues to be the global market leader in salt-free water softening systems. For more information about Pelican Water Systems, visit PelicanWater.com.