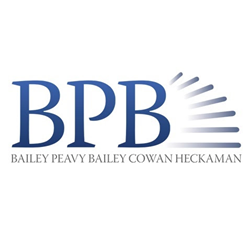 Houston, TX (PRWEB) July 12, 2016
AIOPIA publishes its list of the Top 10 Personal Injury attorneys of each state every year, and select their 10 Best attorneys based on a selection process that includes thorough research, client and peer nomination, and an independent evaluation conducted by AIOPIA. The list is intended to be used by clients as a resource to help them select their attorney.
Aaron is also a Lifetime Charter Member of Rue Ratings Best Attorneys in America, and was named one of the Nation's Top One Percent by the National Association of Distinguished Counsel. Since receiving his JD from the South Texas College of Law, he worked for two nationally recognized law firms before joining the firm of Bailey Peavy Bailey Cowan Heckaman.
We are proud to congratulate Aaron on being selected to AIOPIA's 2016 list, and are excited to see what he does in the future.
Bailey Peavy Bailey Cowan Heckaman is a Houston-based law firm that handles a wide array of cases, ranging from mass torts to serious injuries to mesothelioma. Over the past 30+ years, the firm has successfully recovered billions of dollars for our clients. With over a century of collective practice experience, out attorneys have built a reputation as a force to be reckoned with.
To contact Bailey Peavy Bailey Cowan Heckaman directly, call us at (888) 367-7160, or visit our website at https://www.bpblaw.com.
You can contact Aaron directly at (713) 425-7100.