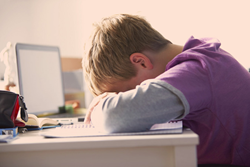 The study indicates that at least 1/3 of all students have been harassed online...This is a growing problem that parents and schools cannot ignore, especially given its fatal consequences.
(PRWEB) August 03, 2016
Securly – a San Jose based online student safety company – shares their recent findings pertaining to online student behavior and its tendencies toward cyberbullying, depression, and self-harm in their new white-paper "Can social media save kids' lives?". The full whitepaper may be found here.
The majority of research centered around cyberbullying and teen emotional distress occurs after the fact, relying on student anecdotes and surveys. By contrast, the information in this study was gathered in real time. Securly's position as a network-based filter provides unique access to such data, allowing the company to find truths embedded within students' own social media posts alone. These findings are product of analysis of over a half million social media posts from over 300 school districts in 2016.
Based on a survey of students, Securly found that 30% of them reported being bullied online. The study uses hard data to delve into the nature of these encounters. The majority of these instances center around Namecalling/Harassment, however students also target their peers with mean comments related to Relationship Drama, Body Image, and Threats. The study concludes based on statistical analysis that the average school district faces threat of suicide once every two weeks. An American Public Health Association study actually coined the term "cyberbullicide" to explain the causal relationship between cyberbullying and suicidal intent.
Solutions to this issue present themselves through analysis of online student behavior. Nowadays, teens increasingly turn to social media to vent their emotional distress or seek counsel. This includes warning sides of high risk behavior like suicide and self-harm. Using Machine Learning techniques, Securly is able to detect negative sentiment like the social media posts below.

"Life sucks and i wanna jump off a bridge."
"If i kill myself no one would notice."
"I am legitimately contemplating suicide and i legitimately want to kill myself."
Securly then sends high confidence alerts to the 1) school district IT admin 2) guidance counselors and 3) parents of the child, so that students receive the proper care and attention. Thus, they believe social media can actually serve as a tool to save a child's life.
This same technology also detects instances of cyberbullying, a major cause of suicide and depression. Through social media, parents and school administration can not only stop tragedy, but eliminate the causes of such emotional distress.
For more data pertaining to trends in online student behavior and its tendencies toward cyberbullying, depression, & self-harm, please see the full whitepaper here.