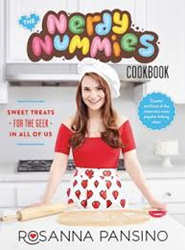 NEW YORK, NY (PRWEB) July 14, 2016
Scanbuy, Inc., the global leader in mobile marketing solutions, today announced that QR Codes in books published by Atria Books, Inc. are helping to engage scores of readers around the world. Scanbuy technology was used to create and manage QR Codes presented throughout Rachael Ray's "Book of Burger," "Week in A Day" and "My Life In Meals," "The Nerdy Nummies Cookbook" by Rosanna Pansino and golf pro Nick Faldo's "A Swing for Life." Detailed data from the codes show that over 19 thousand readers from more than 90 countries are engaging with Pansino's book, providing an unprecedented opportunity for the author to connect with fans in a relevant way.
Along with engaging readers and improving their experience, adding QR Codes in a printed book expands its shelf life by allowing the author to change up materials with dynamic links to reader tips, recipes and more.
"Atria Books understands the value of mobile for their readers," said Maryann Moschides, Chief Marketing Officer at Scanbuy. "We are happy to partner with them to provide technology that bridges the engagement gap for readers. QR Codes can make books more compelling by providing a mobile experience that extends well beyond traditional reading."
In addition to providing a unique way to offer meaningful information beyond the printed page, Scanbuy's platform delivers sophisticated analytics and reporting that allow publishers and authors to track reader engagement. The secure, cloud-based technology is uniquely designed to generate, edit and measure mobile experiences with ease.
About Atria Books
Atria Books is an imprint of Simon & Schuster, a part of CBS Corporation. Simon & Schuster is a global leader in the field of general interest publishing, dedicated to providing the best in fiction and nonfiction for consumers of all ages, across all printed, electronic, and audio formats. Its divisions include Simon & Schuster Adult Publishing, Simon & Schuster Children's Publishing, Simon & Schuster Audio, Simon & Schuster Online, and international companies in Australia, Canada, India, and the United Kingdom. For more information about Atria, visit our website at http://atria-books.com.
About Scanbuy
Scanbuy is the global leader in developing mobile engagement solutions that power intelligent connections between the physical and digital world. The Scanbuy suite of products consists of cloud-based platforms for packaging, engagement, marketing, couponing, advertising and much more. Our platforms are used by a wide variety of industries including retail, CPG, restaurant and media to create, manage and monitor dynamic mobile engagement campaigns. The ScanLife mobile app is used by millions of people around the world to discover new information and is available in the Android and iOS stores. To learn more about Scanbuy, please visit http://www.scanlife.com.