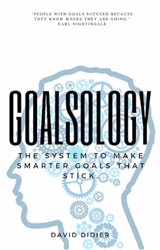 "Goals are the foundation to turn your dreams into reality."
Bend, OR (PRWEB) July 14, 2016
According to PersonalPlan.com, a study found that the 14% of the public that actually sets goals are 10 times more successful than those who don't. In addition, the 3% with written goals are 3 times more successful than the 14% with unwritten goals. So why don't more people set goals if it means they will be more successful? This is because they have tried goal setting in the past, they weren't successful, and they wrote off the effectiveness of goal setting. This is why David Didier created the recently released program "Goalsology." Goalsology is a four-part digital program that teaches people the psychology behind proper goal setting, teaches them how to create SMARTER goals, shows them how to formulate goals that set them up for success, and introduces them to resources that can support them on their journey.
The key to Goalsology is that it is a system. A system that is effective no matter what the goal and no matter the goal setter's current situation. Systems can be repeated. With Goalsology, no matter the goal, people are able to utilize the system to set themselves up for the best chance of success.
David created this program because he is tired of seeing people struggle. So many people have audacious dreams for their live; but, they have no idea what steps to take to make the dreams come true. No matter the dream, David feels goals are the foundation to make it all happen. The old strategy of simply writing a goal down, taping it to the bathroom mirror, and hoping it will come true is a thing of the past. The concept of Goalsology evolves around creating SMARTER goals (as opposed to the popular "SMART" goals). Taking goal setting two steps further, SMARTER stands for: Specific, Measurable, Action-orientated, Realistic, Time-bound, Evaluate, and Revise. Some of the key questions students will ask themselves:

What is the specific outcome you are looking for?
What is the pain for you if you don't achieve your goal?
Does your goal fall in line with your life vision or your overall life plan?
Does your goal fall in line with your values? Is this goal REALLY important for you in your life?
About the Lifestyle Project Show: Started by David Didier in October 2014, Lifestyle Project Show started as a podcast with the mission of motivating people to quit settling in life and to start living the life of their dreams. Since the first episode, the Lifestyle Project Show has since evolved to an internet radio show featured on Radio Star Worldwide.