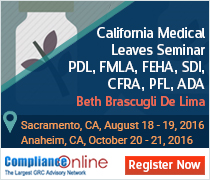 Course "Roadmap of California Medical Leaves - PDL, FMLA, FEHA, SDI, CFRA, PFL, ADA" has been pre-approved by HRCI as eligible for 9 credits towards a participant's recertification upon full completion
Sacramento, CA (PRWEB) July 14, 2016
ComplianceOnline, the leading governance, risk and compliance advisory network with over 500 experts in various regulatory subjects, today announced a seminar on California Medical Leaves - PDL, FMLA, FEHA, SDI, CFRA, PFL, ADA, Workers Comp, and Handling Performance Management Challenges. The one and a half day seminar led by Beth Brascugli De Lima will be held on Location 1 - Aug 18 and 19, 2016 in Sacramento, CA & Location 2 – Oct 20 and 21 in Anaheim, CA.
This comprehensive training workshop will help clarify California specific leaves, how they interact with federal medical leaves, and how to apply leaves accurately and consistently. It will also focus on how to handle performance management issues when managing employees on intermittent or ongoing medical leaves.
For more information or to register for the seminar, please click here.
Speaker Beth Brascugli De Lima, M.B.A., SPHR-CA, is founder, president, and principal of HRM Consulting, Inc., a California-based human resource consulting firm. Ms. De Lima provides corporate consulting on a national basis regarding employment regulation, compliance and vocational rehabilitation. She has assisted corporates, not-for-profits, school districts, and governmental clients with human resource policy development and implementation since 1992. Ms. De Lima has extensive experience in all areas of employment litigation including the Americans with Disabilities Act (ADA), Family Medical Leave Act (FMLA), and Workers' Compensation and is a recognized expert regarding medical leave management employment law compliance.
The objective of this course is to provide an overview of CA specific leave laws, explain their interaction with federal leave laws, and decode how to apply leaves that run concurrently. Drawing from real life scenarios, this workshop will guide participants in critically examining medical certificates, asking for second opinions, and terminating employees in cases of poor performance or failure to respond, without the threat of an expensive litigation.
Inherently, the course seeks to equip participants with the skills and tools needed to apply the strategies presented and take control of medical absences in their workplace or business.
When & Where
Location1:
Date: Aug 18, 2016 (8.30 AM- 4.30 PM) and Aug 19, 2016 (9.00 AM- 12.30 PM)
Sacramento, CA
Location 2:
Oct 20, 2016 (8.30 AM- 4.30 PM) and Oct 21, 2016 (9.00 AM- 12.30 PM)
Anaheim, CA
Registration Cost: $799 per registration
Early bird discounts: For discounts on early registrations, please click here.
Register by phone: Please call our customer service specialists at +1-888-717-2436 or email to customercare(at)complianceonline.com
For more information on ComplianceOnline or to browse through our trainings, please visit our website.
About ComplianceOnline
ComplianceOnline is a leading provider of regulatory compliance trainings for companies and professionals in regulated industries. ComplianceOnline has successfully trained over 35,000 professionals from 9,000 companies to comply with the requirements of regulatory agencies. ComplianceOnline is headquartered in Palo Alto, California and can be reached at http://www.complianceonline.com. ComplianceOnline is a MetricStream portal. MetricStream (http://www.metricstream.com) is a market leader in Enterprise-wide Governance, Risk, Compliance (GRC) and Quality Management Solutions for global corporations.
For more information please contact:
A Reuben Bernard
Associate Director - ComplianceOnline
2600 E Bayshore Rd
Palo Alto CA USA 94303
Phone - 650-620-3937/650-620-3915
Fax - 650-963-2556
Mail: reuben(at)complianceonline.com
Website: http://www.complianceonline.com