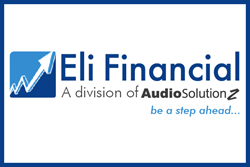 The estate tax and generation-skipping transfer tax have returned, and the gift tax is again unified with the estate tax
NC, Durham (PRWEB) July 13, 2016
Eli Financial, a division of AudioSolutionz, specializes in providing high-quality information, updates, analyses and how-to strategies for banking and taxation professionals. In July, Eli Financial has lined up a formidable series of webinars on new updates and hot topics in the U.S. banking and taxation sectors.
Eli Financial will host a Live Webinar presented by noted expert Arthur Werner titled "Estate and Gift Taxation - Understanding the Basics" on Tue, July 19, 2016. This session aims to simplify federal estate and gift taxation and help tax preparers and payers in filing Forms 706 and 709.
The estate tax and generation-skipping transfer tax have returned, and the gift tax is again unified with the estate tax. Changes in the transfer tax under new law are mirrored in the compliance requirements. These tax compliance issues at death may create confusion for practitioners. This may be due to various reasons, including lack of experience in the specific area.
Many taxpayers made gifts in recent years to transfer substantial assets at little to no federal gift tax cost to take advantage of the significant federal gift tax exclusion. Proper compliance with the complex gift tax rules remains necessary to protect and preserve the advantage of the current exclusion levels.
What is Form 706 and What's New?
*Form 706 is filed on certain estates of a deceased resident or citizen. The executor of a decedent's estate uses the form to figure the estate tax imposed by Chapter 11 of the IRC.
*Various dollar amounts and limitations were imposed in the form to adjust for inflation in 2015. The Form 706 has seen changes in portability, consistent basis reporting and closing letter procedure among others.
What is Form 709 and What's New?
**Form 709 is used to report transfers subject to the Federal gift and certain generation-skipping transfer (GST) taxes, and to figure the tax, if any, due on those transfers.
**In 2015 the annual gift exclusion was ascertained at $14,000 and gifts made to spouses who are not U.S. citizen the exclusion limit was increased to $147,000.
In this informative 2-hour long Live Webinar (2 hours CPE credit), noted taxation expert, author and educator Arthur Werner, will walk participants through the Form 709 and show how gifting strategies can work as part of the taxpayer's estate plans.
After attending this webinar CPAs, EAs, attorneys and other financial advisors will acquire a level of comfort that will provide them with a complete understanding of the basic issues needed to better prepare Federal Forms 706 and 709, as well as serve as a vital prerequisite for courses involving tax compliance of these forms.
For more information visit: https://www.elifinancial.com/taxation/estate-gift-taxation
Get $30 off on our webinars. Use Code PRWEB20 on checkout (Valid till 19 July 2016).
About Eli Financial
At Eli Financial, a division of AudioSolutionz, focuses exclusively on providing the high-quality information, analysis, and how-to strategies finance professionals need to survive and prosper. In every product it deliver—from monthly newsletters and special reports, to webinars and live conferences and distinguish itself by providing intelligent, strategic analysis and practical guidance, rather than simply reporting the news.
*Source: https://www.irs.gov/pub/irs-pdf/i706.pdf
**Source: https://www.irs.gov/pub/irs-pdf/i709.pdf