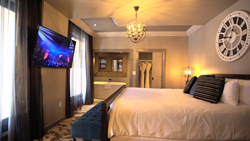 Evolve Controls brings to life the Internet of Things with their system built on Microsoft Azure and Windows 10 to increase guest satisfaction and significantly reduce hotel costs
Chicago, IL (PRWEB) July 14, 2016
Evolve Controls has been selected to provide their integrated solution for guest room controls for climate, lighting, & shading for the Microsoft Connected Room solution. The Connected Room, which brings hotel services such as in-room dining, spa reservations and other hotel experiences into the digital era, is currently being piloted in two guest suites at The Cromwell, Caesars Entertainment's boutique hotel on the Las Vegas Strip. Microsoft has highlighted the Connected Room solution at the Hospitality Industry Technology Exposition and Conference (HITEC) in New Orleans, LA to show how Microsoft technology is helping hospitality companies make digital transformations to improve the guest experience and reduce operational costs.
The Evolve Controls Connected Room solution consists of three elements: wirelessly networked sensors and smart devices located in a hotel room to control climate and lighting, software applications running on Microsoft Azure, eliminating the need for on-site servers, and remote dashboard interfaces available on any mobile or PC device, accessed from any location, to monitor and manage the system. "Evolve Controls brings to life the Internet of Things with their system built on Microsoft Azure and Windows 10 to increase guest satisfaction and significantly reduce hotel costs," according to Greg Jones, Managing Director of Worldwide Hospitality and Travel at Microsoft.
The Connected Room pilot in Las Vegas is the first step towards a complete implementation of the Evolve solution at Caesars hospitality properties. The Cromwell Hotel in Las Vegas is currently conducting a pilot implementation, with the intention of bringing the connected room to all 188 guest rooms. "Our solutions are focused on both energy conservation and improving the guest experience. Upscale hotels, like The Cromwell, can save money from reduced energy consumption while increasing customer loyalty from great, intimate experiences," said Kristin Miller, CEO at Evolve Controls.
Founded in 2008, Evolve Controls LLC is a venture backed company that provides turn-key room automation, control and monitoring solutions to create memorable guest experiences while significantly reducing energy and operational costs. The Company serves hospitality providers from upscale to luxury properties including customers such as Wynn Las Vegas, Inn at Penn in Philadelphia, P.A., Westin Georgetown, D.C., and the Bacara Resort & Spa in Santa Barbara, CA.
More about Evolve Controls can be found at http://www.evolvecontrols.com.
For additional information contact: Tom Cook, tom(at)evolvecontrols(dot)com 855-750-9090 x 207