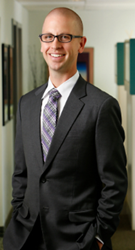 South Denver, CO (PRWEB) July 13, 2016
Dr. Kyle Griffith is now the proud recipient of the Top Dentist Award for the second year in a row from 5280 Magazine. Dr. Griffith is an esteemed dentist in South Denver, CO, who offers a variety of reliable dental services to his patients such as dental implants, Invisalign® and minimally invasive dentistry including fluoride therapy, remineralization therapy and minimally invasive dentistry. Patients who want to receive care from an award-winning dental professional are invited to meet with Dr. Griffith for a customized and comprehensive consultation at his modern practice, 58 Dental.
Dr. Griffith is a highly experienced dentist in South Denver, CO, who is dedicated to offering the latest research in effective and comfortable care to patients. In doing so, he strongly supports minimally invasive dentistry that strives to maintain patients' natural teeth. Patients who desire an alternative to traditional dental procedures are encouraged to find out if they are good candidates for less invasive alternatives.
One of the minimally invasive dentistry techniques Dr. Griffith regularly utilizes is remineralization therapy. This procedure combats tooth damage from cavity-causing bacteria by relying on calcium, fluoride and phosphate to gently repair the tooth. This innovative method may replace the need for tooth drilling on teeth affected by small cavity lesions. Dr. Griffith also offers fluoride therapy, which is a preventative technique intended to correct a patient's oral balance when it is in the harmful demineralization stage. By shifting this harmful process to remineralization, fluoride therapy can repair teeth, help improve dental health and decrease the patient's likelihood of developing cavities.
Patients who want to be seen by a respected and award-winning dentist can visit Dr. Griffith at 58 Dental. As a trusted dentist in South Denver, CO, Dr. Griffith is committed to providing excellent dental care and treatment that causes the least discomfort to patients. Those interested in receiving fluoride therapy, remineralization or minimally invasive dentistry are invited to schedule an appointment at his practice by calling (303)758-5252.
About the Doctor
Dr. Kyle Griffith is a trusted general dentist offering personalized dental care to patients in Denver, CO at his practice, 58 Dental. Dr. Griffith graduated in the top ten percent of his class from Tufts University School of Dental Medicine before graduating as the top U.S. resident within the Advanced Education in General Dentistry residency program in Fort Hood, TX. He has received the Army Achievement Medal and the Army Commendation Medal during Active Duty with the United States Army and served for 6 years, leaving at the rank of Major. Dr. Griffith sees the importance of providing patients with truly comprehensive care using the latest advancements in dentistry and technology, which is why he started 58 Dental, to change the face of dentistry by keeping patients healthy for a lifetime. To learn more about Dr. Griffith or the services he offers, visit his website at http://www.58dental.com, or call (303) 758-5252 to schedule an appointment.