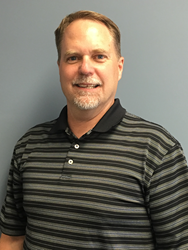 Plainfield, IL. (PRWEB) August 25, 2016
Contact: 54 LLC               
Jack Burris
704-557-0304
jburris(at)engage54(dot)com
Spring-Green Lawn Care is proud to announce a new member to our staff, Brad Saunders, who assumed the role of director of business development in June.
Brad brings a wealth of experience as a small business owner. During the past 25 years he has owned a franchise business, bought and grown a specialty tool repair business, owned a daycare facility and worked as an independent small business advisor. Brad's unique skillset makes him ideally suited to help small business owners and willing entrepreneurs understand the many benefits of owning a Spring-Green franchise.
Prior to joining Spring-Green, Brad worked with Advicoach, a franchise organization that provides real life practical advice to business owners who are interested in how to grow their business. In addition, Brad has served as a member of the Potosi Foundation board of directors (2011–2015). As acting President of the Potosi Brewing Co, this small craft beer brewing company increased its distribution, rising to 10th among Wisconsin craft beer brands, and underwent a $5 million brewery expansion. Brad's key responsibilities included distributor relations, sales staff alignment and management of the festivals and special events calendar.
"Brad is experienced in all facets of business ownership—strategy planning, personnel, accounting, financial, marketing, government regulation, new site development and creative financing solutions," said James Young, Spring-Green president. "His knowledge will be a tremendous asset to Spring-Green's future, and we are excited to have him join our team."
A graduate of the University of Wisconsin-Platteville, Brad has been happily married for more than 31 years. He and his wife, Mary, have three children. In his spare time, Brad enjoys fishing in Canada, hunting and spending time with his family.
About Spring-Green Lawn Care
Founded in 1977, Plainfield, Illinois-based Spring-Green Lawn Care has been delivering lawn and tree care services nationwide for more than 39 years. Its service is centered on the beautification of residential and commercial customers in middle-class and affluent neighborhoods and communities. Spring-Green is an attractive opportunity for entrepreneurs and existing green industry business owners who want to align themselves with a business model that has proven economic resilience, healthy profit margins, industry leading business and marketing intelligence, recurring revenue and retirement and succession planning. For more information, visit http://www.springgreenfranchise.com.