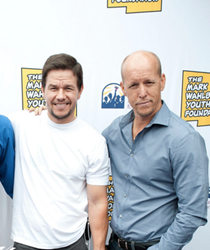 "One of the most important aspects of this event," says Bruce Fiene, "is erasing the stigma of heroin addiction, because the stigma keeps people suffering in silence."
Ware & Worcester, Massachusetts (PRWEB) July 18, 2016
When Worcester residents Bruce Fiene and Tracy Wheeler discovered their 18-year-old son was using heroin, they had no idea what to do or where to turn for help until by chance they found Learn to Cope, a non-profit support network for families coping with a loved one addicted to opiates or other drugs.
Two years later, and with their son in recovery, Fiene and Wheeler decided to turn their newly-rediscovered love of motorcycles into a vehicle for saying "thank you." "What helped our family get through this tragedy was Learn to Cope, so we decided to pay it forward and do a charity fundraiser for them," Fiene explains as his rationale for organizing Rally 2 Recovery, a 40-mile fundraising motorcycle ride for Learn to Cope from Ware to Worcester on August 13th, followed by an event with food, live music and dignitaries. The event is open to the public, and includes leaders in the field of recovery who can offer advice, resources, and hope for families and loved ones who are dealing with the crisis of heroin addiction and other dug abuse.
The keynote speaker will be James Wahlberg, co-writer and co-producer of If Only, a short film about the dangers of prescription drug misuse and abuse and opioid addiction. Wahlberg is also Executive Director of the Mark Wahlberg Youth Foundation, an organization that improves the quality of life for inner city youth through a working partnership with other youth organizations.
Fiene has never organized an event before, much less one of this magnitude expected to bring in 1,000 riders, but he threw himself into it last fall, enlisting the support of family and friends of addicts he met at Learn to Cope to recruit corporate sponsors and manage the thousands of details for the event.
Founded in Taunton by Joanne Peterson in 2004 when she discovered that her own son's experimentation with prescription drugs had led to a heroin addiction, Learn to Cope now has over 8,400 members, and is a nationally-recognized model for peer support and prevention programming.
Through collaboration with the state health department, Learn to Cope (LTC) became the first parent network in the country to provide the overdose reversal medication naloxone to family members to reverse a loved one's opioid overdose. Since December 2011, LTC members have successfully reversed 50 opioid overdoses in their homes.
Bruce and Tracy learned that, in a common path to addiction, his son got his first opioid pill, a prescription Percocet, around the age of 16 from a friend's medicine cabinet at a party. At 17, he dabbled some more in legal pharmaceuticals, learning to crush and smoke them. By the time he turned 18, Fiene says, his son was shooting up much cheaper, and more readily available, heroin on a regular basis—all without his family's knowledge. In a matter of months, the star pupil and athlete devolved into a dropout, forced to enter rehab full time. "He lost it all," says Fiene.
A common refrain of those involved with Learn to Cope is how important the organization is to both the families of the addict and actually to the addict themselves. Rally co-organizer Nick Murphy, who travels from Connecticut with his wife Peggy for weekly meetings says, "I am not alone when I say that our son may have never found recovery if we did not find Learn to Cope."
Murphy says he and Peggy learned at meetings how this epidemic is hitting every demographic of society. When they walked into their first meeting they are amazed, but oddly comforted, by the number of people in the same situation.
Bruce and Tracy's son is in early recovery and very committed to making it a long-term recovery. They still attend LTC meetings every week to get support and to give back to the group that helped usher their family to where they are now. Another motivation for the rally, Fiene points out, is that unlike cancer or diabetes, there are few walkathons or 5K runs raising awareness and funds to fight addiction. "One of the most important aspects of this event," says Fiene, "is erasing the stigma of heroin addiction, because the stigma keeps people suffering in silence."
Fiene, now on the Worcester County Opiate Task Force and a passionate crusader in the opioid addiction battle, says Rally 2 Recovery will tour through parts of central Massachusetts that have been hit particularly hard by the opioid abuse epidemic. New England is not unusual, drug overdose is the leading cause of accidental death in the U.S. Opioid addiction is driving the epidemic, with 18,893 overdose deaths related to prescription pain relievers, and 10,574 overdose deaths related to heroin in 2014.
Proceeds from the Rally 2 Recovery will go to support Learn to Cope and its programs. All Donations and Registrations are fully tax deductible. Registration for the ride is available online at http://www.rally2recovery.com or from 9:00-10:30am on Ride Day on August 13th, at the Walmart parking lot at Gibbs Crossing in Ware, MA. The rally will have a police motorcycle escort on Route 9 from Ware to Worcester, and will end at WPI's Gateway Park where there will be food (including desserts by Food Network star Alina Eisenhauer, executive chef/owner of Sweet in Worcester) and live music by Craig DeMelo: The Whiskey Poet, Dōdeca and SPF4. In addition to James Wahlberg, there will be several other speakers, including Joanne Peterson, Learn to Cope Executive Director and founder, and Worcester City Manager Ed Augustus.
Nick Murphy adds, "R2R is more than just a motorcycle ride; but an opportunity for the general public to attend at no cost to hear the live bands and speakers, as well as to meet with our sponsors, many of whom are leaders in recovery field and can offer advice, resources, and most importantly hope for families and loved ones who are looking for help when dealing with the crisis of addiction. The general public is encouraged to join us."
Donations and registration for the event can be made through the Rally 2 Recovery website.