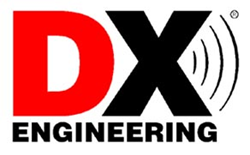 Tallmadge, OH (PRWEB) July 14, 2016
DX Engineering now carries the Geochron Ham Map. Based on feedback from the Ham Radio community, the Ham Map was designed with help from the DX Engineering team and incorporates all of the original Geochron features, plus CQ zones and country prefixes.
The Geochron is unique among maps in that it displays geography, plus local time (12 and 24 hour formats), Greenwich Mean Time (GMT), sunrise/sunset, all legal time zones, sun movement, daylight duration, and latitude/longitude. That wealth of information made the Geochron map a favorite of Amateur Radio operators.
Sleek and elegant, Geochron maps are printed in full color on a belt that is driven continuously in synchronous movement with the Earth. The night/day boundaries are shown by backlit or shaded areas. The track of the sun is represented by a moving dot and the current time is displayed along the top of the map. The overall design allows anyone to quickly determine the local time at any location on the planet.
Operators can order their Geochron Ham Map with custom finishes and trim colors. Each map measures 2 x 3 feet. Geochron Maps are powered by standard household AC power.
DX Engineering has Geochron's Ham Map in stock, ready to ship today.
DX Engineering
http://www.DXEngineering.com
1-800-777-0703