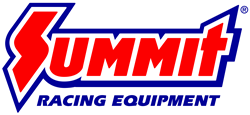 Tallmadge, OH (PRWEB) July 14, 2016
Summit Racing now offers PowerNation TV Engine Power In House Mighty Mouse Stage 2 Parts Combos. Based on Engine Power's Power Mouse Stage 1 small block Chevy engine build, the Mighty Mouse made 546 horsepower and 495 lbs.-ft. of torque. Summit Racing's In House Mighty Mouse Stage 2 Parts Combos to give enthusiasts ideas about their own small block builds.
In House Mighty Mouse Stage 2 Chevy Engine Combo
The PowerNation guys knew that big power required more cubic inches. They bumped the small block from 355 to 383 cubic inches with a Eagle Specialties stroker crank and H-beam connecting rods. The team chose a set of AFR cylinder heads with Jesel rocker arms, topped with AFR's Titon intake manifold and a 950 cfm Quick Fuel Black Diamond carburetor. An MSD distributor handles the ignition duties.
In House Mighty Mouse Stage 2 Chevy Oiling System Combo
Building big power without upgrading the oiling system is asking for trouble. The Engine Power team worked over the block, widening oiling holes and smoothing/deburring transitions to allow for better oil movement. The oiling system is all Summit Racing components—deep sump oil pan, high-volume oil pump, pickup, pump driveshaft, and gasket.
PowerNation TV has even bigger plans for Mighty Mouse. The Engine Power guys promise an all-new engine block, and throttle-body fuel injection, and even bigger dyno numbers.
See"Power Mouse" transform into "Mighty Mouse" on PowerNation TV's Engine Power.
Summit Racing Equipment
http://www.summitracing.com
1-800-230-3030