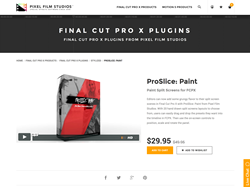 FCPX editors can now add some grungy flavor to their split screen scenes with 20 hand drawn split screen layouts
Aliso Viejo, California (PRWEB) July 16, 2016
"FCPX editors can now add some grungy flavor to their split screen scenes with 20 hand drawn split screen layouts," said Christina Austin - CEO of Pixel Film Studios.
Editors can now add a hip, grungy style to their next split screen scene in Final Cut Pro X by using hand drawn brush stroke panels. Then complete the grungy look by adding a paint stroke text panel as well.
With ProSlice Paint's collection of 20 brush stroke panels, editors can divide their screen into two, three, four or even five sections in the few clicks of a mouse all within FCPX. Get ready to slice up-and-down, left-to-right and every other way imaginable.
Editors can position their image with precision. With easy-to-use on-screen controls, users can scale, rotate and position their brush stroke panel without ever having to leave the Viewer window in Final Cut Pro X. Users can then use the Inspector controls to adjust the drop shadow.
The team at Pixel Film Studios redesigned the split screen method to make the process easier than ever in Final Cut Pro X. Editors can simply stack as many paint stroke presets as they want want in the timeline. Then fill each one with their media and use the on screen controls to move it around the screen.
Established in 2006, Aliso Viejo, California-based Pixel Film Studios is an innovative developer of visual effects tools for the post-production and broadcast community. Their products are integrated with popular non-linear editing and compositing products from Apple FCPX. Apple, the Apple logo, Mac OS X, and Macintosh are registered trademarks of Apple Inc. in the U.S. and/or other countries. All other trademarks and trade names are the property of their respective owners.