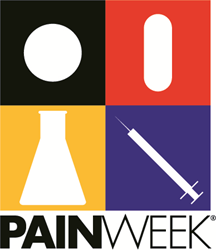 ...this session will teach what to do and how to document it in order to give you the confidence to face any future audit.
Montclair, NJ (PRWEB) July 19, 2016
PAINWeek®—the largest US pain conference for frontline practitioners—is celebrating its 10th annual meeting. An addition to this year's schedule is a workshop entitled Winning the Game of Groans: Strategies and Tactics for Preserving the Pain Practitioner's Decision to Prescribe Controlled Medication. This unique workshop will be led by the equally unique combination of a physician, a nurse practitioner, a clinical psychologist, and a veteran attorney/medical practice consultant. The workshop is limited to 40 attendees and has a separate registration fee of $175.
Jennifer Bolen, JD, says the course "will help pain practitioners learn key self-audit strategies and tactics to demonstrate and document patient evaluation and monitoring when prescribing controlled medication to treat pain. In today's environment of ever-increasing regulatory scrutiny over controlled medication, pain practitioners need to accurately and completely capture patient history, physical examination, risk evaluation, treatment plan, informed consent, treatment agreement, condition and medication monitoring, and other steps to demonstrate prescribing for a legitimate medical purpose while acting in the usual course of professional practice." Ms. Bolen is the founder of the Legal Side of Pain in Knoxville, Tennessee.
Clinical psychologist Ted Jones, PhD, CPE, comments, "If you're like most people, if you find out your records are being audited you groan. This session is designed to help you prevent and deal with such a situation. National experts will use a small group setting to help you understand the important points in the documentation of your services. From the initial assessment to ongoing treatment decisions, this session will teach what to do and how to document it in order to give you the confidence to face any future audit." Dr. Jones is president of the Pain Education Institute in Knoxville, Tennessee.
Joining Ms. Bolen and Dr. Jones will be Doug Gourlay, MD, MSc, FRCPC, FASAM, and Darren McCoy, FNP-BC, CPE. These faculty members and attendees will work through extensive case examples and various treatment puzzles to accomplish course objectives. Dr. Jones continues, "Our team will help you understand how to assess, treat, and document your chronic pain services and will work together to teach the 'what' and the 'how' of pain treatment, particularly as it relates to prescribing opioids. Small group lectures, faculty discussion, much time for questions and answers, and liberal use of case examples will be used to make this session a memorable and valuable one."
The PAINWeek curriculum now encompasses over 140 CE/CME course hours, enabling attendees to earn up to 35.5 AMA PRA Category 1 Credits.
Additionally, over 100 exhibitors will be participating at the Exhibit Hall, commencing with the traditional Welcome Reception on Wednesday evening.
Significant registration discounts are available to individuals and groups during "early-bird" registration until July 31, 2016. Visit http://www.painweek.org to register.
PAINWeek® is provided by Global Education Group.
###