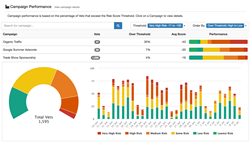 "It is critical to measure the quality of leads to maximize marketing efforts," said Peter Cholnoky, E-HAWK CEO. "Getting thousands of leads using Google Adwords or buying lists does not drive sales if many are fake, from Bots, or bogus."
Saratoga Springs, NY (PRWEB) July 14, 2016
E-HAWK (http://www.e-hawk.net) today added marketing performance analytics to their fraud detection platform. The service tracks which campaigns and lead sources deliver the most qualified prospects, so companies can maximize their lead generation investments.
E-HAWK's portal charts real-time performance results for marketing campaigns and lead sources. Organizations can quickly view campaign and lead source rankings, stop buying leads from poor performers, and improve online marketing results.
"It is critical to measure the quality of leads to maximize marketing efforts," said Peter Cholnoky, E-HAWK CEO. "Getting thousands of leads using Google Adwords or buying lists does not drive sales if many are fake, from Bots, or bogus."
The platform runs hundreds of test on each lead and links results to marketing sources. Now businesses can easily determine which lead sources and campaigns are delivering the best results, which have the highest rate of bogus and fake users, and adjust spending accordingly.
Understanding the performance of marketing efforts is critical to maximizing sales efforts. E-HAWK's service can quickly measure lead quality and provide insight into marketing and lead spend results.
About E-HAWK
E-HAWK provides an online service designed to stop fraudulent sign-ups, registrations, and account hijacking. The company has processed over two hundred million risk evaluations. The technology integrates into any online service and runs hundreds of tests on IP, email, phone, location, domain, activity, geo-location, and device ID. In addition, submitted fraudster data from our customers is pooled and used anonymously in community testing to stop repeat cyber criminals from inflicting damage on multiple accounts.