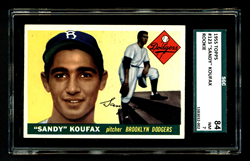 "Baseball Card Roadshows will be giving away a $5,000 Sandy Koufax rookie card graded near mint!
Atlantic City, NJ (PRWEB) July 25, 2016
Baseball Card Roadshows, the country's largest traveling cash buying show of vintage sports cards will be giving away a $5,000 Sandy Koufax Rookie Card at the 2016 National Sports Collectors Convention in Atlantic City, NJ. The 1955 Topps Koufax is graded near mint and is a stunning example of Koufax's rookie card with the Brooklyn Dodgers. The card will be available for viewing at the Baseball Card Roadshows corporate booth. There is no purchase necessary to win. Entry forms will be onsite along with the official rules. Need not be present to win, but must sign up in person. The final drawing will be held main stage on Sunday, August 7th.
Gary Leavitt of Baseball Card Roadshows says, "This is an incredible opportunity to win an iconic card from the hobby; not to mention one of the most popular and hottest cards in the market right now." Looking to sell some cards? http://www.baseballcardroadshows.com will also be paying cash on the spot for all collections older than 1972. No collection is too big or too small. Call in advance with large collections for a private meeting. Baseball Card Roadshows will be set up for the entire week of August 2nd-August 7th.
Based out of Minneapolis, MN; Baseball Card Roadshows travels the country over 300 days of the year purchasing collections. Many future events are scheduled can be located on the website. Please contact Gary Leavitt at 612.558.7580 or by email at Gary(at)baseballcardroadshows(dot)com for more information. All appointments are private and confidential.