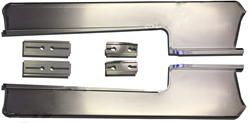 Detroit, Michigan (PRWEB) July 14, 2016
Finding quality made auto body panels has never been an easy task, especially for restorers breathing new life in those hard-to-find classics. Classic 2 Current Fabrication is proud to offer an American-made running board for many desirable classics.
These running boards are made of heavy 16-gauge American steel. They will not give way or break like fiberglass boards. They are non-ribbed with a smooth finish, allowing the user to finish them as desired. These running boards are precision laser cut at their headquarters in Detroit, Michigan. "This allows us to create a better running board for our customers at an affordable price," says Chief Executive Officer Michael Laiacono. "We understand what it means to restore a car that is passed down through your family or simply fixing your every day driver."
Currently Classic 2 Current Fabrication offers the running boards for the following makes and models: Ford model A, Ford model 48, Ford model 18, Ford model B, Ford pickup trucks, GMC pickup trucks, Chevy pickup trucks, Mercury models, and Chevy models. The running boards include the adapters to fit the original braces of the vehicle being restored. The Classic 2 Current Fabrication website has a Make/Model/Year search option that makes it easy for you to find the products you are looking for.
Classic 2 Current Fabrication has redefined how the process of finding and purchasing replacement body panels a breeze with their easy to use website. Classic 2 Current Fabrication is committed to offering high quality rust repair auto body panels and parts at affordable prices. They have an impressive assortment of products. They continue to research and find quality products for their customers. Classic 2 Current Fabrication strives to be your one-stop shop for all the products you will need to get your car out of the garage and back on the street.