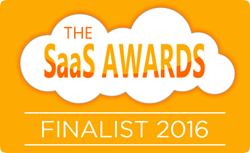 Seoul, South Korea (PRWEB) July 14, 2016
Korean-based Polaris Office, the cloud-based productivity suite used by more than 40 million people worldwide, today announced it has been named a finalist in the 2016 SaaS Awards Program in the Best SaaS Product for Productivity and Best SaaS Newcomer categories.
With awards for excellence and innovation in SaaS, the Software-as-a-Service Awards program accepts entries worldwide, including the U.S., Canada, Australasia, the U.K. and EMEA. 2016 is the inaugural year for The SaaS Awards program, which is partnered with the annual Cloud Awards, now entering its sixth year.
Categories for the 2016 awards program include Best SaaS Product for Small Business, Best Enterprise-Level SaaS Product and Best Data-Driven SaaS Product.
"We are honored to be among the finalists in both the Best SaaS Product for Productivity and Best SaaS Newcomer categories," said Sophie Kang, marketing manager at Polaris Office. "SaaS technologies sit in an incredibly competitive global marketplace and, as such, this is a huge achievement for our team."
SaaS Awards and Cloud Awards organizer Larry Johnson said, "The SaaS Awards, unlike the long-running Cloud Awards, which takes a more holistic approach to celebrating excellence in cloud services, is a recognition platform specifically for software solutions. Frankly, it's about time: in a maturing international marketplace for cloud services, SaaS has proven to be the poster boy for leveraging thin-client technologies, while ensuring end-users are always working at the cutting edge.
"In its first year, we have already seen a groundswell of submissions from large, blue-chip organizations which continue to adapt and make inroads into the space, and smaller, more agile start-ups, which can occupy and dominate a niche.
"We've also welcomed a significant number of entries from outside North America, which is refreshing. The judging has taken its toll on our team – whittling the list down further in several categories will be a challenging task, with such a high standard of submissions. To make the shortlist itself is an honor."
Final SaaS Awards winners will be announced on Tuesday, August 9, 2016. The SaaS Awards are closed for entries and will return in spring 2017. Over 200 organizations entered, with international entries coming from North America, Canada, Australia, the U.K., Europe and the Middle East. To view the full shortlist, please visit: https://www.cloud-awards.com/2016-saas-shortlist/
A sister program to the SaaS Awards, The Cloud Awards (https://www.cloud-awards.com/), is currently accepting submissions for a new 2016-17 program, continuing its recognition of excellence in cloud computing, with a final October deadline.
About the SaaS Awards
The SaaS Awards is a sister program to the Cloud Awards, which was founded in 2011. The SaaS Awards focuses on recognizing excellence and innovation in software solutions.
About the Cloud Awards
The Cloud Awards is an international program which has been recognizing and honoring industry leaders, innovators and organizational transformation in cloud computing since 2011. The awards are open to large, small, established and start-up organizations from across the entire globe, with an aim to find and celebrate the pioneers who will shape the future of the Cloud as we move into 2016-17 and beyond. Categories include the Software as a Service award, Most Promising Start-Up, and "Best in Mobile" Cloud Solution.
Finalists are selected by a judging panel of international industry experts. For more information about the Cloud Awards and SaaS Awards, please visit cloud-awards.com.
About Polaris Office
Polaris Office, a leading Software as a Service (SaaS) company, offers today's digital workers an intuitive cloud-based office productivity suite. Polaris Office combines office productivity functionality such as file creation, file storage, sync and share across multiple platforms and devices, deep editing capabilities, and PDF support with access to disparate apps such as Dropbox, OneDrive, and Google Docs all on one centralized platform. Since Polaris Office was launched in 2014 it has garnered 40 million customers across the globe. To learn more about Polaris Office, visit http://www.polarisoffice.com.