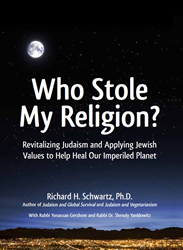 Staten Island, New York (PRWEB) August 11, 2016
In a world increasingly threatened by climate change, food, water and energy shortages, terrorism, poverty, and other problems, it is urgent that Jews be in the forefront of people addressing these threats. Yet the Orthodox Jewish community, while acting admirably in their local communities, is generally in denial of the existential threat that climate change poses to Israel, the U.S., and, indeed, the entire world, and is supporting an increasingly conservative Republican Party that tries to benefit the wealthiest Americans and highly profitable corporations, at the expense of average Americans, and supports other positions that are contrary to basic Jewish values.
To directly address these issues, a new edition of "Who Stole My Religion? Revitalizing Judaism and Applying Jewish Values to Help Heal Our Imperiled Planet," by Richard Schwartz, Ph.D.,with assistance by Rabbi Yonnassan Gershom and Rabbi Dr. Shmuly Yanklowitz, has just been published by Ktav Publications Schwartz argues that Judaism is a radical religion, whose teachings on peace, justice, compassion, environmental sustainability, and other issues must be applied to address current threats.
Among the other challenging positions in the book are the following:

There is no military solution to terrorism, and it can be best addressed by the U.S. admitting that some of its past actions have radicalized some terrorists and by seeking to improve its image by spearheading a global Marshall plan that aims to sharply reduce poverty, hunger, illiteracy, illness, environmental degradation, and other societal ills.
Israel needs a just, comprehensive, sustainable resolution of her conflict with the Palestinians in order to avoid continued and possible increased violence and diplomatic isolation and criticism, effectively respond to her economic, environmental, and other domestic problems, and remain both a Jewish and a democratic country.
Jews should be vegetarians, and preferably vegans, animal rights advocates, and environmental activists.
Tikkun olam, repairing and properly transforming the world, should be a central focus for Judaism today.
The Holocaust should be a spur to activism to reduce hateful actions and to help leave a decent world for future generations.
Schwartz is eager to engage in discussions and debates on the issues in his "Who Stole My Religion?" because of his strong belief that his book can help revitalize Judaism by showing the relevance of Judaism's eternal teachings to current crises and can also help shift our imperiled planet onto a sustainable path.
"Who stole my religion is an awesome book which proclaims that Judaism is so much more than just an ethnic group, a culture, or a civilization. Richard reminds us that Judaism is a revolutionary and radical calling to challenge the status quo and reflects a vision of a world of justice, love, truth and peace. The book's eloquent plea for Jews to go back to our roots (to be radical) and use Judaism as more than just a social club, but a way to change the world, is refreshing and urgently needed in today's troubled times. I highly recommend this book to anyone who cares about morality, spirituality, Judaism and living life to the fullest." Rabbi Barry Singer, Congregation L'Dor ve-dor and founder and co-chairman of the Palm Beach County Environmental Coalition.
For further information or to schedule an interview, please email Richard at veggierich(at)JewishVeg(dot)com.