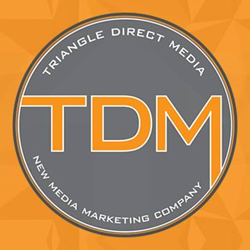 We are extremely thankful to our clients and our employees for making this anniversary possible.
Cary, NC (PRWEB) July 18, 2016
"We are proud to be celebrating our tenth year of business," said President Tony Feriozzi. "Our clients' successes over the past ten years are a testament to our dedication to helping businesses succeed in their online marketing efforts."
Feriozzi, along with co-owner Keith Boutwell, started the company in order to help small businesses build successful online marketing campaigns. Since early 2006, Triangle Direct Media (TDM) has provided the highest quality marketing services to hundreds of businesses of all sizes and in almost every business space. TDM was one of the first companies to utilize blog marketing and social media outlets to positively influence client's rankings, branding, and visibility online.
TDM's programs have evolved greatly over its past 10 years in business, and now include its proprietary SEOtool.com software, as well as Rankound.com, an online rank tracking tool. Its other online marketing programs, including social media and search engine optimization, are constantly evolving to change with the times, ensuring the best results for customers.
The overwhelming successes of Triangle Direct Media's client campaigns has enabled the company to quickly gain recognition in the Inc. 500 Fastest-Growing Private companies in America two years in a row. The business now boasts over 20 employees, spanning offices in over three different states.
"We are extremely thankful to our clients and our employees for making this anniversary possible," said Feriozzi. "We look forward to continuing to serve our valued customers for many years to come."