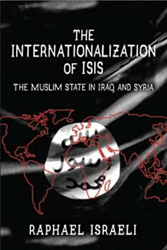 ...Islamization by force and terror is their agenda.
Piscataway, NJ (PRWEB) August 15, 2016
To the Western eye, ISIS is an Islamic terrorist group, but to its growing group of followers, ISIS represents a movement with "pure" ideals and goals.
"In their world, nothing else but Islam is credible, therefore there is no meaning to anything but the absolute domination of Islam since no other faith can compete," writes Raphael Israeli, author of the new book, "The Internationalization of ISIS".
These ideals, along with ISIS's defiance of the West and its brutal and coercive ways have earned it thousands of recruits in the Middle East, and a network of radicalized Muslims from Western countries.
In "The Internationalization of ISIS," Raphael Israeli outlines the series of events that led to the rise ISIS. He explains how the Caliphate movement of ISIS (also dubbed IS, ISIL and Da'ish or Daesh), has been able to capture the minds of so many young Muslims around the world.
It is more imperative than ever to understand ISIS's roots and emergence, as it increasingly becomes a center of terrorist activity both within the Middle East and in Western home territory.
Despite attempts from international coalitions, no single force has been able to arrest ISIS's advance or universal appeal to Muslims around the world.
Israeli's pessimistic conclusion is that ISIS may be a contender for power in the Middle East for many years to come, and presents an existential threat to the core of Western values.
For more information about the book, "The Internationalization of ISIS," visit: http://ow.ly/Fkob3038Qdd