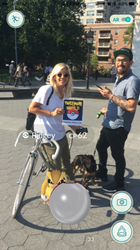 Meeting other people could evolve into an important part of the Pokemon Go gameplay.
New York, New York (PRWEB) July 14, 2016
Yesterday, July 12th, 2016, Pokemon World (http://pokemon-world.com) held what may have been the country's first Pokemon Go meetup.
Pokemon trainers in New York City gathered at Washington Square Park to catch Meowths, Ponytas, and plain old good vibes. For several hours, players spent time around lured Pokestops sponsored by Pokemon World. There, they mingled and learned more about their fellow trainers.
"It's been great to look at other people's Pokedexs and get insight on their techniques." said Pokemon level 12 trainer, Christina Baron.
While some spent their time in the grass tracking, others took to the gym under the arch to unseat the current gym leader and their Vaporeon. Players even exchanged numbers in hopes of future hunts together.
What's Next?
Speaking of future hunts, Pokemon World will sponsor its next Pokemon Go meetup this upcoming Tuesday, July 19th. The event will coincide with We Work's Taco Tuesday located at their Soho West location where Pokemon World will be buying lures for nearby Pokestops.
Join them as they lure and catch Pokemon while chomping on some chips, guac, & razz berries. There will also be Pokemon Go raffles and giveaways for all attending trainers. RSVP here to attend the meetup.
About Pokemon-World.com
Pokemon-World.com was created in 2014 help people play Pokemon in all its forms, including the newest smash hit, Pokemon Go. Visit the website at pokemon-world.com for Pokemon Go tips, guides, community forums, and upcoming events.
CEO Robertson Price sees the opportunity for Pokemon Go to be not only the world's biggest game. He also believes with some minor technical or user driven innovations, the game could become the newest social networking or dating app.
"Meeting other people could evolve into an important part of the Pokemon Go gameplay. As it's currently configured, you're bound to find other players accumulating at prominent in-game and real-life locations."
"On Tuesday, with the help of WeWork's Taco Tuesday, we hope to highlight fun ways of introducing people in the real world through the gaming narrative. We believe this is one of the world's first Pokemon Go Meetups, and we plan to sponsor many more."