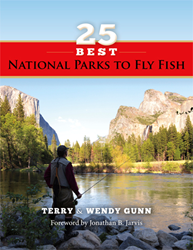 "I've never seen a more helpful, thorough, and credible resource on fishing our National Parks than 25 Best National Parks to Fly Fish. It's astounding."—Kirk Deeter, Editor-in-Chief, TROUT magazine; Editor-at-Large, Field&Stream
West Palm Beach, FL, July 19, 2016 (PRWEB) July 19, 2016
On August 25, 1916, President Woodrow Wilson signed legislation creating the National Park Service, a new federal bureau in the Department of the Interior responsible for protecting existing national parks and monuments and those yet to be established. By doing so, he not only preserved America's most remarkable natural wonders, but he also created protections for some of the most idyllic fly-fishing locations in North America.
Robert D. Clouse, Stonefly Press CEO & Publisher, announces the July 2016 release of 25 Best National Parks to Fly Fish, the much-anticipated, groundbreaking book from Stonefly Press. "We believe this one-of-a-kind book is the perfect companion to the National Park Service centennial celebration and summer travels across the Park system. It is the only book of its kind, looking at fly-fishing opportunities across the entire National Park System and combining the details of a companion guidebook with the stunning visual presentation of a collector's coffee table publication."
25 Best National Parks to Fly Fish - featuring a moving foreword from Jonathan B. Jarvis, Director of the National Park Service, and in celebration of this summer's centennial of the National Park Service stewardship - is the first book to feature in one publication the phenomenal fly-fishing opportunities throughout the National Park System. Authors Terry and Wendy Gunn tap into the collective knowledge of some of the most accomplished and iconic guides and anglers working the waters both inside and adjoining the nation's most accessible national parks. From jumping tarpon in the Everglades, high-sticking for brook trout in the small creeks of the Great Smoky Mountains, and throwing line in the high-alpine lakes of the Rocky Mountains, these authors and contributors share their deep knowledge of each park and the many species that inhabit their waters.
25 Best National Parks to Fly Fish includes detailed GIS maps, recommended flies, hatches, hot spots, and suggestions for gear, lodging, and dining for each location, as well as more than 250 stunning, 4-color location photos that will make you want to pack up your gear and hit the road for a world-class experience in America's national parks! To learn more, go to http://stoneflypress.com.
About the Authors
Terry Gunn has been a full-time fishing guide for more than thirty years, as well as a renowned author, photographer, and pubic speaker. He and his wife Wendy, also a fly-fishing expert and IGFA record-holder, have owned and operated Lees Ferry Anglers Fly Shop and Guide Service since 1989, and Cliff Dwellers Lodge in Marble Canyon, Arizona, since 2001.
Terry and Wendy cohost Fly Fish Television Magazine and have produced two educational videos, Introduction to Fly Fishing and Introduction to Fly Casting. They have fly fished around the globe in both fresh and saltwater. Terry holds more than ten International Game Fish Association world records for multiple species of fresh- and saltwater fish.
About Stonefly Press
Based in West Palm Beach, Florida, Stonefly Press publishes innovative fly-fishing books in print and digital formats, including chapter downloads for destination waters. They create an experience community shared actively between authors and enthusiasts, and donate a percentage of profits to more than a half dozen water conservation groups, including American Rivers, Bonefish & Tarpon Trust, California Trout, Riverkeepers, and Western Rivers Conservancy, among others. http://stoneflypress.com
For more information contact:
Robert D. Clouse, Publisher
Email: robb.clouse(at)stoneflypress(dot)com
http://stoneflypress.com