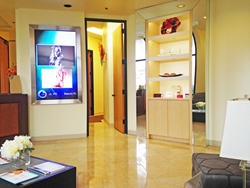 "The measure of success for any surgeon, is a happy patient."
San Diego, CA (PRWEB) July 15, 2016
Dr. Moneer Jaibaji Plastic Surgery in San Diego is all set for a grand celebration of its 10th anniversary in July 2016. Since opening his doors in 2006, Dr. Jaibaji has maintained his vision of unparalleled patient care with high quality aesthetic and reconstructive results by personally supervising all aspects of his cosmetic surgery experience. With a beautiful boutique plastic surgery office in Coronado, Dr. Jaibaji is conveniently located to clientele living in San Diego county and its surrounding areas. His Coronado surgery facility provides state-of-the-art amenities with much in store for beauty enthusiasts in the form of breast augmentation, rhinoplasty, liposuction, mommy makeover, skincare, and rejuvenation procedures.
This celebratory year, Dr. Jaibaji has already filled his San Diego pedigree with cosmetic surgery honors such as America's Top Breast Surgeons of 2016 and a RealSelf Top Doctor 2016. However, the accomplished plastic surgeon has already been in the spotlight for quite some time with his unique attention to detail and personal care with his patients for a number of years prior. Throughout this time, Dr. Jaibaj's cosmetic surgery advice has been sought out on television through MTV's, "True Life", and a local San Diego TV channel discussing the PIP implant scandal a few years ago. Additional features such as articles in U-T San Diego and his widely-read cosmetic surgery blog on [http://www.mjplasticsurgery.com __title__ Dr. Jaibaji San Diego Plastic Surgery] have served to broaden the cosmetic surgery knowledge of the San Diego community.
Though every year brings new challenges, the board certified plastic surgeon admits a great deal of time mastering the art of the latest surgical procedures such as breast augmentation. Even after ten years of plastic surgery in Coronado, Dr. Jaibaji continues to hone his craft through study and attending various seminars around the USA. Events such as the 50th Baker Gordon Symposium on Cosmetic Surgery help the Dr. Jaibaji to stay up to date with current plastic surgery trends and the new technologies that are constantly arriving to shape the cosmetic industry. When asked to comment regarding new procedures Dr. Jaibaji says, "One of the biggest challenges in plastic surgery is that it's become commercialized and many of the new procedural trends are not tested. One should be aware of these kinds of advertisements and pitfalls."
Outstanding testimonials and patient reviews have attested to Jaibaji's expertise based on their surgical outcome. When asked about his wonderful patient rapport, Dr. Jaibaji humbly displays an appreciation for what it's like to help people feel and look more beautiful with natural-looking results. "The measure of success for any surgeon, is a happy patient," said Dr. Jaibaji. With such glowing cosmetic surgery results, we can only continue to expect San Diego to keep on looking more beautiful with each passing year.