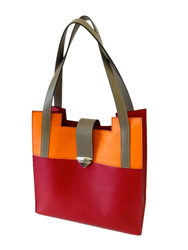 In a world, where almost everything is mass produced, it is the ultimate luxury to own a handcrafted leather bag.
(PRWEB) July 19, 2016
Amelie Amblard, the only child of Hermes trained master leather artisan Beatrice Amblard, has launched her first collection of leather bags made from French grain calf, just one year after graduating from Amblard Leather Atelier. The Amelie Collection is on display at April in Paris in San Francisco, the exclusive leather boutique Beatrice founded in 2000.
Amelie's debut collection showcases innovative and unique designs, while still maintaining a focus on classic leather craftsmanship. "Customers are tired of mainstream brands; they want something new. Playing with geometrical shapes and color blocking, I was able to create a modern, yet classic range to cater for the younger generation, as well as a more mature market," Amelie said of the collection.
Inspiration comes to Amelie in unexpected places and from people around her. While traveling, she keenly observes different shapes, formats, colors, and people that can be translated into remarkable designs. This comes through in the Amelie Collection. In a world where the focus is shifting predominately to mass-produced goods, the striking orange, red, and taupe bags of the collection are handcrafted to create an impactful addition to any outfit. The colors pair well with neutrals and bright colors, and are versatile enough to be used in all four seasons.
The Iris Clutch is a thin, compact design just big enough for the essentials of a formal night out on the town. In contrast, the Naomi tote is perfect for travel and everyday practical use. The bag contains an interior zipper and phone pockets, providing ample storage. The Sienna shoulder bag, a sleek geometric design with a detachable shoulder strap, is a versatile option for work and everyday use. The Payton backpack is an easy-to-open bag with a front turn lock, 13" laptop pocket and detachable shoulder straps. The Lana bag is a classic and sophisticated sports bag that fits securely underneath the arm for comfort. This bag has an expandable top zipper.
Each of these bags is carefully hand-stitched with the traditional saddle stitch – true to old world craftsmanship, which ensures the best quality and timeless luxury. All bags from the Amelie Collection have a lifetime guarantee and complimentary annual refurbishing.
As a dedicated leather artisan, Amelie is passionate about upholding the slowly dying trade. Incredible attention to detail is required to produce quality handcrafted items, taking a great amount of patience. "It takes between 20 to 35 hours to create each leather bag, but I get butterflies in my stomach when someone picks up a handbag from the Amelie Collection and admires the detailed leather craftsmanship," Amelie said.
About April in Paris and the Amelie Collection
April in Paris is a unique leather boutique founded in 2000. The store features handcrafted, high-quality, custom leather goods created by Beatrice and Amelie Amblard. To learn more about April in Paris and the Amelie Collection, visit http://aprilinparis.us/amelie-collection/ or send an email to press(at)aprilinparis(dot)us