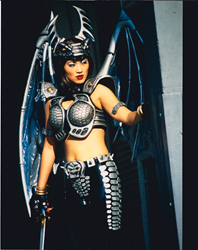 I went from fighting Power Rangers to saving complexions with my skincare line
Los Angeles, California (PRWEB) July 15, 2016
As a former actress and TV villainess on hit TV Power Rangers, Jennifer Yen spent hours under heavy makeup to transform herself into what became the show's cult character, 'Vypra'. The bright lights, intense physical scenes combined with heavy duty makeup created a different type of battle for Jennifer: one with her skin, and one that would later inspire her skincare company, pur~lisse.
After months of battling with her troublesome complexion, Jennifer felt inspired to turn to her Asian heritage and roots for natural, healthy and gentle skin-care solutions. This became a turning point for Jennifer, and through discovering nourishing ingredients, techniques, and advanced technologies throughout Asia and beyond; Jennifer healed her skin and pur~lisse Skincare was born.
Jennifer partnered with the best chemists, herbalists, and research labs to create a phenomenal collection of universally effective skincare. From gentle cleansers to age-delay serums, every pur~lisse product is formulated with meticulously curated healthy skin ingredients combined with proven science.
The entrepreneurial spirit, and unique path to skincare success caught the eye of The Professional Beauty Association (PBA) and Cosmoprof North America (CPNA), hosts of the Beauty Pitch™ 2016 competition. Beauty Pitch™ offers a platform for beauty entrepreneurs to pitch their business ideas live to an esteemed panel of judges and qualified investors including John Paul DeJoria (Co-Founder of Paul Mitchell line of hair products) and Kevin Harrington (Founder of As Seen On TV, Appearances on 'Shark Tank').
Six finalists take the stage at Beauty Pitch™ 2016 on Saturday, July 23, 2016; three finalist companies from both the Startup and Established category will pitch their business ideas to the panel, and a live audience.
pur~lisse is one of three successful finalists for the Start-up category of Beauty Pitch™. The winner stands to walk away with a life-changing investment and judge mentorship, to ensure the winner's company will be taken from a satellite brand to a mainstream one.
Jennifer explains how she created a company that not only "transforms skin tone and texture", but also "protects against and help prevent aging without harsh ingredients such as parabens, petrochemicals, propylene-glycol, GMOs, sulfates, phthalates, triclosan, and synthetic colors". In a few short years, pur~lisse has made waves in the press with features by leading titles including Allure , Forbes , VOGUE , Marie Claire and ESSENCE
For more information about Beauty Pitch 2016, or to vote for pur~lisse visit: http://www.beautypitch.com/2016-finalists/
Voting is open until July 23rd, voting is allowed once a day.
Find pur~lisse on Twitter, Instagram, Facebook and SnapChat @purlisse