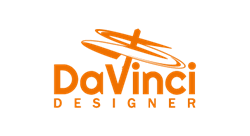 The look and feel simply do not come across on a flat 2D monitor as they do physically. DaVinci changes all that.
Las Vegas, NV (PRWEB) July 15, 2016
DaVinci Designer (DaVinci), developed by Opensoft Inc., will demonstrate its design to visualization tool for remote proofing and press checks at the 2016 Vendor Show, taking place July 22 at the Hyatt Regency New Orleans. Put on by Franchise Services Inc. (FSI), the annual buying event is one of the largest in the printing, signs and marketing technologies industries.
DaVinci is the perfect front-end tool to create embellished print products that can be printed on a Scodix or MGI. The online proofer can also show sleeking and foiling.
The print customization application lets users create and edit proofs of printed products. DaVinci instantly provides a realistic 3D visualization of the product that includes special embossed finishes and textures. Its three-dimensional proofing technology can be viewed in 360-degree rotation to view variances in texture, foil and spot gloss on all sides.
"The challenge was to show the customer - over the internet - what these creations would actually look like once they are in hand. The look and feel simply do not come across on a flat 2D monitor as they do physically. DaVinci changes all that," explained Brett Heap, CEO, Opensoft Inc.
DaVinci's online interactive proofing equips print sellers and resellers with advanced design to print and proofing capabilities that eliminate the need for physical proofs.
Coinciding with the annual Sir Speedy, PIP and Signal Graphics International Convention, the trade show allows decision-makers and franchise owners an exclusive viewing of innovative new products for the print industry.
To schedule a live demonstration, email info(at)poweredbydavinci(dot)com or booth 516 at the 2016 Vendor Show. For more information, please visit PoweredByDaVinci.com
About DaVinci Designer
DaVinci Designer is a wholly owned subsidiary of Opensoft Inc., located in Las Vegas, Nev. Opensoft Inc. has advanced technologies for the print industry and extensive experience in developing print software for managing print processes at every stage of selling, manufacturing and fulfillment.