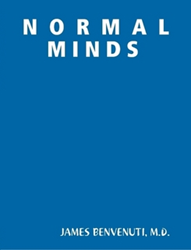 ALBERQUERQUE, N.M. (PRWEB) July 14, 2016
Working as the staff psychiatrist for 20 years alongside the first person to statistically define "normal minds" at the Glen Roberts Child Study Center in Glendale, California, author James Benvenuti, M.D., has admixed these determinants with later discoveries from Harvard teams which then developed the SCORS system for describing "normal." Benvenuti covers this and more in his new book, "NORMAL MINDS" (published by Lulu).
Presenting an "8-gated filter" to help readers manage their words and actions more effectively, "NORMAL MINDS" explores Glen Roberts' concept and shares scientific findings on "normal" while integrating brief biographies of many of history's greatest leaders who showed these various traits.
An excerpt from "NORMAL MINDS":
We all know what 'crazy' looks like ... BUT WHAT DOES NORMAL REALLY LOOK LIKE?
Describing normal people as aware, positive, intimate, moral, responsible, self-controlled, self-confident and integrated, Benvenuti suggests "All of us strive to be NORMAL PEOPLE -this book helps us FOCUS ON WHAT'S NEEDED."
"NORMAL MINDS"
By James Benvenuti, M.D.
Softcover | 8.5 x 11 in | 160 pages | ISBN 9781329999572
Available at Amazon and Barnes & Noble
About the Author
James Benvenuti, M.D., is a board-certified pediatrician who was a fellow in psychoneurological pediatrics at the University of California Medical Center in San Francisco, and who studied adult psychiatry at the Walter Reed Army Medical Center in Washington, D.C. He practiced as the staff psychiatrist at the Glen Roberts Child Study Center in Glendale, California, for 20 years. He is also the author of "OMG - a 21st Century Relationship." More information can be found at: normalminds.com.
Lulu empowers people of all ages to explore and express their interests, passions and expertise through books, photography and art. Since introducing self-publishing in 2002, Lulu has empowered creators in more than 225 countries and territories to produce nearly two million publications. Lulu Jr. allows children to become published authors, encouraging creativity, strengthening literacy and building self-esteem. Picture.com offers professional photography of collegiate and professional sports, memorable and historic events, fine art and home décor. For more information, please visit lulu.com.