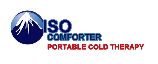 Palm City, Florida (PRWEB) July 14, 2016
IsoComforter, Inc., one of the Nation's premier providers of cold therapy products, announced today the introduction of an innovative IsoTube technology and uniflow technology that employs a patented method of temperature regulation. The IsoTube ridges provide optimal contact and pain control. By utilizing ice and water that is circulated from an insulated fluid reservoir to a pad that is applied to your injury or post op site, the system provides continuous cold therapy for an extended period of time between ice changes. The IsoComforter patented IsoTube System is engineered to sustain a constant temperature range without manual mechanical controls. The result is an easy to use cold therapy system that provides safe, effective heat transfer at the optimal therapeutic temperature range. The IsoComforter cold therapy machine with IsoTube technology produces a very comfortable "cold" that is more easily tolerated by patients. It has been proven to notably reduce swelling and pain... often with less dependency on pain relievers.
The IsoComforter IsoTube pad system is specifically designed for different body parts and applications. It delivers comfortable cold therapy with accurate therapeutic temperature ranges that allow for longer-term application. The constant flow of cold water provides a more stable heat transfer to the area. Cold water moving rapidly over an area is less likely to injure you than ice sitting directly on the skin, causing burns.
IsoComforter's patented cold therapy pads are Silicone free and resists flow restrictions and stiffening and conform better to body contours. The flow pattern assures a consistent temperature across the pads for uniform therapy, while the foam insulation on the pad and hose helps prevent condensation.
IsoComforter's patented Iso-Tube pads are designed to completely disperse cold therapy across the cooling surface of the pad due to the single flow design. The water flows in one direction allowing for high flow heat transfer.
For years, IsoComforter has proven itself in real-world conditions on patients that have reported exceptional outcomes when using our product. Professional and amateur athletes use cold therapy routinely to keep the performing at their best.
About IsoComforter:
Since 2000, IsoComforter, Inc. has been committed to providing the highest quality product possible, through our highly skilled and dedicated employees and state-of-the-art and patented products. This commitment to quality is what makes IsoComforter stand out ahead of our competitors and enables us to deliver quality products to our customers. IsoComforter is located in beautiful South Florida and manufactures and delivers quality products nationwide.
To learn more about IsoComforter's quality products, call our office today or visit our website at isocomforter.com/ and isocomforter.com/products.
Contact:
IsoComforter, Inc.
4215 SW High Meadows Avenue
Palm City, Florida 34990
Phone: 1-877-277-0367
Fax: 1-772-220-6645
Source: IsoComforter, Inc.