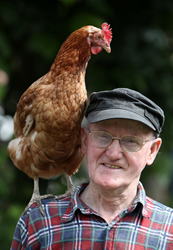 Curious Egg is proud to support Equal Arts. We love the idea that every time one of our customers buys something beautiful for their home they they can help make a small difference in someone's life through art and creativity.
Perth, Scotland (PRWEB UK) 19 July 2016
Specialist online interiors boutique, Curious Egg has partnered with leading creative ageing charity, Equal Arts to support their pioneering HenPower project - which creatively engages older people in arts activities and hen-keeping to promote wellbeing and reduce loneliness. A percentage of every customer purchase at curiousegg.com will be donated to the charity to help fund the UK wide project. The two organisations have also agreed to work together to promote the need for art and creative thinking in elderly care and the benefits to quality of life it can bring.
Lorraine Aaron, owner and creative director of Curious Egg expressed her delight about the new partnership: "The power of art and creativity to improve lives is something I have always passionately believed in and have experienced first hand since my dad recently developed Alzheimer's. Equal Arts' innovative and original projects bring real purpose, connection, friendship and joy to the older people they help and we are privileged and excited to be working with them. We love the idea that each time one of our customers buys something beautiful for their home they are helping Equal Arts to continue their amazing work." Equal Arts Co-Director Douglas Hunter added "There is a growing understanding that creativity is intact long after other cognitive functions decline. We see first-hand the impact the arts have - helping staff to engage with care home residents, encouraging them to explore their creativity and live in the moment. The Curious Egg team understand and share our passion for enhancing lives through creativity and we are delighted to be working with them."
For more information visit curiousegg.com/henpower.
About Curious Egg: Curious Egg, http://www.curiousegg.com is a specialist supplier of interior decor products and artworks for home and commercial interiors run by professional artist Lorraine Aaron. The company sells a carefully curated range of items including ceramics, paintings and sculptures, lighting and printed wallpapers sourced from a European network of independent artists, designers and makers and including many limited edition, small batch and original pieces. Products are available to buy from an online boutique at curiousegg.com and via a bespoke sourcing and commissioning service.
About Equal Arts: Equal Arts – Registered Charity No: 517352, is a leading creative ageing charity working to improve the lives of older people through creativity and arts activities. Equal Arts strongly believe in the health benefits of the arts and support care staff and artists to deliver musical, visual and movement-based creative activities with active older people and those living with dementia, giving them the opportunity to explore their imagination and live in the moment. Based in Gateshead, the charity runs programmes throughout the North East and across the UK. For more information visit equalarts.org.uk