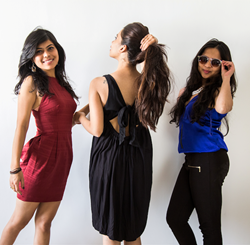 Pune, India (PRWEB) July 16, 2016
Today, Threadly Retail Tech. which runs Trobe (http://www.trobe.in), a fashion resale platform for women, announced that they crossed over 500 outfits listed online. The 'tribe of wardrobes' aka Trobe launched its site in Jan 2016, and has since been adding branded & boutique fashion to its ranks as the concept of pre-owned fashion gathers greater acceptance among the company's young users.
The concept of 'thrifting' is not new to India, where large families have traditionally shared & exchanged clothing among siblings and familial hand-me-downs have been a thing of pride. However, such a concept has not been explored commercially at scale and the start-up is excited to take this up. "I've always shared clothes with my siblings while growing up & with my roommates during college. Not only did it allow me to get a new look every day, but it helped us bond" quips the founder, Sanjeevani. "We want to put the element of discovery back in fashion."
Staying true that claim, Trobe manages all aspects of an online consignment store by featuring unique branded fashion at competitive prices. While the site functions like a regular e-commerce portal to anyone looking to buy an outfit from the site, they have kept the selling process limited to referrals. The company credits the growth in inventory to strong customer referrals. In addition to clothes, the company has recently introduced costume jewellery to its online portfolio.
About TROBE:
For women looking to sell, Trobe removes all the hassles of listing involved in selling
online on a marketplace. ​

It manages doorstep pick-up of clothes, laundry & cleaning of garments pre-sale.
It conducts a professional photo-shoot & subsequent marketing of the product.
Upon sale, Trobe manages the handling & shipping process & accepts return if any.