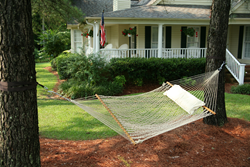 Every day is Hammock Day for us...
Greenville, NC (PRWEB) July 18, 2016
A symbol of relaxation, the hammock will be celebrated in all its glory on July 22, 2016 with National Hammock Day. In honor of what is a national holiday for them, DFOhome.com will be offering 15% off orders on the 22nd.
So why a day just for hammocks?
"It's pretty obvious as soon as you lie down in one," says Katie McCanna, Director of E-Commerce for DFOhome.com. "They're the ultimate in relaxation. As soon as you climb into one your worries just melt away."
Taking advantage of the special is easy - visit DFOhome.com on the 22nd, find the hammock that's right for you and input HAMMOCK into the coupon field during checkout to save 15% on your entire order. DFOhome.com stresses that this is a one day sale.
"We want to make it easier than ever for people to relax this summer," added Katie. "Every day is Hammock Day for us, but the 22nd is a great opportunity for us to share that and show everyone why we love what we do."
DFOhome.com is your source for all things hammocks. Their selection includes every style of hammock imaginable - cotton, soft spun polyester, and Duracord rope hammocks, fabric and quilted hammocks made with ultra-durable Sunbrella fabrics, and camping hammocks for those looking to relax when they get off the beaten path.
In addition to large selection of hammocks, DFOhome.com offers accessories such as hammock stands for those without conveniently placed trees, patio furniture that's perfect for entertaining, and outdoor curtains and rugs, all designed to withstand the elements and add an element of style to your outdoor space.
About DFOhome.com
DFOhome.com, based in Greenville, NC and established in 2002, is an online specialty retailer of hammocks and relaxation-focused outdoor furniture.
DFOhome.com offers brands including, but not limited to, Hatteras Hammocks, Pawleys Island Hammocks, ENO, Sunbrella, WeatherSmart, The Captain's Line, and Essentials by DFO.
For more information about DFOhome, visit them at DFOhome.com and follow them on Facebook, Twitter, and Instagram.
Contact Information
Katie McCanna
Director, E-Commerce
DFOhome.com
1-800-398-6004