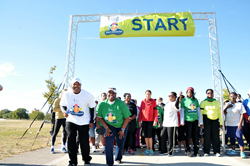 (PRWEB) July 16, 2016
UNCF today announced that it will be championing education with several 5K walks throughout Milwaukee, Cleveland, Seattle and Detroit. These celebrations of education will bring together between 300 and 1,500 community supporters in each city during the months of July and August to raise vital funds needed to help students get to and through college.
"More than ever, students need a college education to be competitive and succeed in today's global economy," said Michael L. Lomax, Ph.D., president and CEO of UNCF. "By investing in our students now, through events like the UNCF Walk for Education, we are providing them with a path to success that will pay future dividends for them, their families and communities, and for all of us."
Following are details about upcoming UNCF Walk events:
Milwaukee

Cleveland
Seattle
Detroit
Follow these events across the nation @uncf #laceup4UNCF
###
About UNCF
UNCF (the United Negro College Fund) is the nation's largest and most effective minority education organization. To serve youth, the community and the nation, UNCF supports students' education and development through scholarships and other programs, supports and strengthens its 37 member colleges and universities, and advocates for the importance of minority education and college readiness. UNCF institutions and other historically black colleges and universities are highly effective, awarding 21 percent of African American baccalaureate degrees. UNCF administers more than 400 programs, including scholarship, internship and fellowship, mentoring, summer enrichment, and curriculum and faculty development programs. Today, UNCF supports more than 60,000 students at over 1,100 colleges and universities across the country. Its logo features the UNCF torch of leadership in education and its widely recognized motto, "A mind is a terrible thing to waste."® Learn more at UNCF.org or for continuous updates and news, follow UNCF on Twitter at @UNCF.