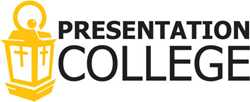 Transitioning to a fully-virtual, low-cost bookstore with a marketplace was a natural choice given that most of our students are already accustomed to comparison shopping for just about everything on the internet
Norwalk, CT (PRWEB) July 19, 2016
Akademos, Inc. announced today that it has partnered with Presentation College to launch an online bookstore website giving students access to a vast selection of low-cost textbooks along with a convenient, personalized and fast ordering experience. Presentation College (http://www.presentation.edu), named to the President's Honor Roll for Community Service, is an independent Catholic institution based in South Dakota with a focus on the education of health care professionals.
Presentation College is implementing the "hybrid bookstore model," which enables the institution to offer all course materials through the low-cost online bookstore and leverage its on-campus shop to sell a wide variety of "Spirit" wear and general merchandise.
Presentation students can now shop for textbooks in new, used, rental and eBook formats from any device using a custom-branded version of the mobile-optimized Akademos online bookstore. Students save an average of 60% off the list price of their course materials using Akademos' exclusive marketplace of over 100 million new and used textbooks.
The Akademos online shopping platform is scheduled to be fully integrated with Presentation's student information system (SIS), which will enable students to see a personalized list of required textbooks and order books for an entire term in less than five minutes. Students will also be able to seamlessly apply financial aid to their course material purchases.
"Transitioning to a fully-virtual, low-cost bookstore with a marketplace was a natural choice given that most of our students are already accustomed to comparison shopping for just about everything on the internet," said Presentation College Vice President for Finance Cathy Hall. "The hybrid model allows us to significantly improve textbook affordability while maximizing the profitability of our on-campus shop by offering a wider selection of other items."
"While price is and always will be a key driver behind where students choose to purchase their course materials, the results of our recent college student survey show that the importance of convenience should not be underestimated," said John Squires, chief executive officer, Akademos.
"The Akademos online bookstore solution provides Presentation students with the ultimate textbook ordering experience by offering low prices and a high level of convenience in addition to a fully personalized course materials list."
To learn more about expanding affordable textbook options for students and online bookstore offerings for educational institutions, visit http://www.akademos.com.
About Presentation College
Founded in 1951, Presentation College is an independent Catholic educational institution based in Aberdeen, South Dakota offering degrees primarily in health-related fields. Welcoming people of all faiths, the college challenges learners toward academic excellence and, in the Catholic tradition, the development of the whole person.
Presentation College has been a leader in health care education, in establishing outreach campuses, in utilizing technology and in offering on-line education. Based on that history of innovation, Presentation College continues to embrace creativity, originality, imagination and vision to promote resourcefulness.
About Akademos
Akademos offers customized, online bookstore services and solutions that support what's most important to institutions - from full-service virtual bookstores to unique partnerships and products supporting on-campus shops. Akademos delivers cost savings on course materials for students while providing administrators and faculty with critical control over the textbook delivery process.
Akademos offers an innovative textbook marketplace, best-in-class eCommerce platform, eLearning solutions, and a unique adoption and analytics portal. The company's comprehensive supply-chain solution and commitment to responsive personal service makes it the choice of leading institutions throughout the country.
Akademos helps institutions deliver the right course materials, at affordable prices, on time. Learn more at http://www.akademos.com