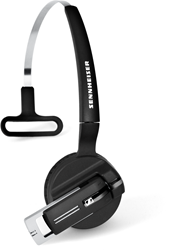 We look forward to advancing a dialog on how premium audio can help drive productivity in the workplace, moving end-users toward the modern, omnipresent mobile communications networks we predict will support the offices of the future.
Old Lyme, Conn. (PRWEB) July 14, 2016
Sennheiser, a leading provider of premium headsets and speakerphone solutions, is demonstrating its line of premium business headsets and speakerphones at the Microsoft World Partner Conference on July 10 to 14, taking place in Toronto, Canada. Sennheiser's Contact Center and Office division will be located at booth #630 at the event.
The company will exhibit its portfolio of audio solutions designed to enhance unified communications networking through sophisticated audio technology. All of the Sennheiser headsets are compatible with Microsoft Skype for Business and other major industry platforms, ideal for unified communications environments. Its models incorporate sophisticated noise cancelling characteristics, and offer exceptional voice intelligibility facilitated by a complex system of directional microphones. This allows Sennheiser's products to deliver an effective user and listener experience, even when that user finds him or herself facing challenging elements such a windy outdoor corridor.
At the WPC booth, attendees can test the newly updated PRESENCE™ models, which incorporate Sennheiser's WindSafe™ technology. This capability dynamically selects the best mix of the three microphones to optimize voice and decrease wind noise to ensure the clearest possible sound is delivered to the listener. PRESENCE has been improved to more effectively reduce background noise and provide the consistent, clear listening experience that professional communication demands.
In addition to the new PRESENCE models, the full Sennheiser CC&O portfolio encompasses wired, wireless, Bluetooth and DECT headsets. This includes the D 10 series; the SD wireless, Century, Circle, and Culture models; plus Sennheiser's SP 10 and SP 20 mobile speakerphones, which provide flexible "plug and play" audio conferencing for SMB offices.
"It's an honor, as usual, to be part of the Microsoft WPC event," said Andreas Bach, president of Sennheiser Communications A/S. "We look forward to advancing a dialog on how premium audio can help drive productivity in the workplace, moving end-users toward the modern, omnipresent mobile communications networks we predict will support the offices of the future."
About Sennheiser:
Audio specialist Sennheiser is one of the world's leading manufacturers of headphones, microphones and wireless transmission systems. Based in Wedemark near Hanover, Germany, Sennheiser operates its own production facilities in Germany, Ireland and the USA and is active in more than 50 countries. With 19 sales subsidiaries and long-established trading partners, the company supplies innovative products and cutting-edge audio solutions that are optimally tailored to its customers' needs. Sennheiser is a family owned company that was founded in 1945 and which today has 2,750 employees around the world that share a passion for audio technology. Since 2013, Sennheiser has been managed by Daniel Sennheiser and Dr. Andreas Sennheiser, the third generation of the family to run the company. As part of the Sennheiser Group, the joint venture Sennheiser Communications A/S is specialized in wireless and wired headsets and speakerphones for contact centers, offices and Unified Communications environments as well as headsets for gaming and mobile devices. In 2015, the Sennheiser Group had sales totaling €682 million. http://www.sennheiser.com
For more information on our professional headset solutions, please visit http://www.sennheiser.com/cco