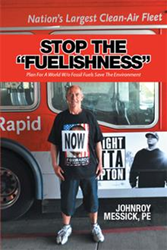 The book is called 'Stop the Fuelishness' because the debate surrounding fossil fuels today is truly foolish.
LOS ANGELES (PRWEB) July 16, 2016
The United States is the world's largest consumer of fossil fuels, and at the world's current usage rates, fossil fuels will not last for the coming generations.
In his new book "Stop the Fuelishness", Johnroy Messick seeks to dive into a solution to transition away from fossil fuels to prevent an energy crisis, while simultaneously saving the environment. He presents his self-funded research and a solution based on truth, honesty, and knowledge, not based on money from Big Oil and the Koch brothers.
"I want the reader to have an unbiased, unfiltered understanding of the truth of the matter," Messick said, "without immediate action, our nation and the world will destroy the environment and approach an energy crisis in the near future."
With over a 60-year career of study and practice in the energy sector, Messick has experienced firsthand the depths of the issues facing the United States and the world as a whole.
Raised on a farm with an abusive father, it wasn't until his mother ran away with her 6 children to live with her parents in the city that Johnroy experienced either electricity or running water.
Johnroy went on to attend both Auburn University and Xavier University, earning a Bachelors of Chemical Engineering and a Masters of Arts respectively.
"The book is called 'Stop the Fuelishness' because the debate surrounding fossil fuels today is truly foolish," Johnroy said, "it requires a serious approach and understanding of the facts to create positive change."
"Stop The Fuelishness: Plan For A World W/o Fossil Fuels Save The Environment"
By Johnroy Messick
ISBN: 9781514431085
Available in hardcover, softcover & e-book
Available on Amazon, Barnes & Noble and Xlibris
About the author
As a child, Messick was forced by an abusive father to work a worn-out farm in Appalachia without electricity, running water or telephone. Eventually his mother left with Messick and his 6 siblings. Messick went on to pay his own way through Auburn University and Xavier University, graduating with high honors and as a top engineering graduate; with memberships in the honor societies of Phi Kappa Phi, Tau Beta Pi- engineering and president of Phi Kappa Upsilon- chemistry. Messick worked 50 years as an Engineering Project Manager obtaining titles including, President of the Ohio Consulting Association, Youngest Project Manager and Technology-Vice President. He has 2 daughters, a son and a beautiful grand daughter.
# # #
**FOR IMMEDIATE RELEASE**
For review copies or interview requests, contact:
Muriel Cross
317.602.7137
mcross(at)bohlsengroup(dot)com