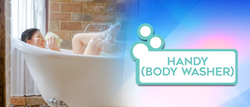 "The Hygiene industry is worth $79 billion," says Scott Cooper, CEO and Creative Director of World Patent Marketing. "The Handy glove is a brand new product that both improves and simplifies the standard bathing experience."
Miami, FL (PRWEB) July 15, 2016
World Patent Marketing, a vertically integrated manufacturer and engineer of patented products, announces Handy, a double-layered bath glove meant to simplify and speed up the process of personal hygiene.
"The Hygiene industry is worth $79 billion," says Scott Cooper, CEO and Creative Director of World Patent Marketing. "The Handy glove is a brand new product that both improves and simplifies the standard bathing experience."
"There are many people that feel that there just aren't many good personal hygiene products on the market," says Jerry Shapiro, Director of Manufacturing and World Patent Marketing Inventions. "Handy is a brand new idea that is geared towards that type of person to increase personal hygiene and satisfaction."
Handy is a dual-layered wash glove meant to provide an ideal bathing experience and targeted specifically towards men. Most hygiene products are targeted towards women, and Handy is created to be more durable and satisfying. Handy has two layers, one spongy layer used to lather and another exfoliating layer. The outer layer can be peeled back to convert it to a dual-sided glove. Handy is also meant to function equally well for both right-handed and left-handed people.
"Handy Body Washer will increase the quality and enjoyment of your bath/shower time, while also enhancing skin health," says inventor Robert H, "It's great for men and women will love it. It can be used by the young and the old, so get rid of those basic bath time products because Handy Body Washer is what you need. This ambidextrous, multitasking glove is made for comfort and allows you to wash without holding on or gripping to anything while you bathe. It is compatible with bar or liquid soap, equipped with a storage loop that makes it great for at home or travel, and is washer machine safe."
Harry Wilson, a workout coach from California, had this to say about Handy: "After a tough workout, there's nothing better than stepping into the shower to cool off, but there just weren't many personal hygiene products targeted towards a man such as myself. Handy is that kind of product."
Handy is a personal hygiene invention that will change the way people bathe.
ABOUT WORLD PATENT MARKETING
World Patent Marketing is an innovation incubator and manufacturer of patented products for inventors and entrepreneurs. The company is broken into eight operating divisions: Research, Patents, Prototyping, Manufacturing, Retail, Web & Apps, Social Media and Capital Ventures.
As a leader in patent invention services, World Patent Marketing is by your side every step of the way, utilizing our capital and experience to protect, prepare, and manufacture your new product idea and get it out to the market. Get a patent with World Patent Marketing and the company will send representatives to trade shows every month in order to further advocate for its clients. It is just part of the world patent marketing cost of doing business.
World Patent Marketing Reviews enjoy an A+ rating with the Better Business Bureau and five star ratings from consumer review sites including: Consumer Affairs, Google, Trustpilot, Customer Lobby, Reseller Ratings, Yelp and My3Cents.
World Patent Marketing is also a proud member of the National Association of Manufacturers, Duns and Bradstreet, the US Chamber of Commerce, the South Florida Chamber of Commerce, the Greater Miami Chamber of Commerce, Association for Manufacturing Excellence, and the New York Inventor Exchange.
Like the World Patent Marketing facebook page. And, add us on Twitter and YouTube. You may also contact us at (888) 926-8174.