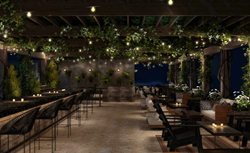 ALLENHURST, NJ (PRWEB) July 14, 2016
The beautiful city of Asbury Park has been on the rise for about 15 years and the revival of the city has recently been highlighted in an article published by The New York Times. The article focuses on the success of the famous Jersey Shore town and how it has grown in recent years. The article explains that this success is partially due to the popular music scene in the area as there are currently eight venues ranging from the infamous Stone Pony and new venue House of Independence. The article describes the city as "retro-meets-modern" since Asbury Park contains both historic locations while it also continues to develop and grow. One of the major developments within the city in recent news is the opening of the Asbury which is a new, luxurious hotel offering new bars and a rooftop movie theater.
The revival of Asbury Park can also be attributed to the restaurant scene. The NYT article highlights the unique restaurants along the boardwalk, which sets the town apart from the typical Jersey Shore boardwalk experience. These Asbury Park restaurants include the Langosta Lounge, MOGO Korean Fusion Tacos, and Asbury Festhalle and Biergarten, among many others. Countless local New Jersey residents have embraced the growth of the city and look forward to all the city will offer in the future as it continues to prosper.
For more information please visit http://www.nytimes.com/2016/07/10/travel/asbury-park-new-jersey.html?_r=0
About Bielat Santore & Company
Bielat Santore & Company is an established commercial real estate firm. The company's expertise lies chiefly within the restaurant and hospitality industry, specializing in the sale of restaurants and other food and beverage real estate businesses. Since 1978, the principals of Bielat Santore & Company, Barry Bielat and Richard Santore, have sold more restaurants and similar type properties in New Jersey than any other real estate company. Furthermore, the firm has secured in excess of $500,000,000 in financing to facilitate these transactions. Visit the company's website, http://www.123bsc.com for the latest in new listings, property searches, available land, market data, financing trends, RSS feeds, press releases and more.