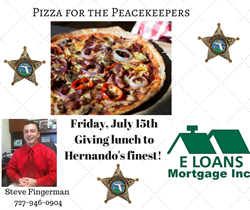 "Thank you Deputies for all you do for our community, I support you!"
Spring Hill, FL (PRWEB) July 14, 2016
What happened in Dallas rocked the nation and once again showed, just how fragile life can be. It also serves a reminder to everyone of how local and state Policemen and Policewomen put their lives at risk every day to serve their communities. Most of folks go about our lives and never give that risk a 2nd thought until something as tragic as Dallas makes it difficult, if not impossible to ignore.
What started out as a simple gesture by Patrick DeFeo, a Realtor with The DeFeo Realty Group in Manatee County, Florida has quickly turned into a national movement. Patrick had an idea that he wanted to give back to his local Sheriff's office as a way of simply saying thank you for all they do for his community. He decided that he would buy the Sheriff and his deputies' pizza, 30 of them to be exact, along with a simple note: "Thank you Deputies for all you do for our community, I support you!"
He shared his story and gesture with his friend, Steve Fingerman from E Loans Mortgage who had the idea to turn into a national movement and shared his plan with a group of Mortgage Loan Officers across the country. The group consists of some of the most trained Loan Officers in the Country who network to collaborate through the group and share ideas and knowledge. That's when one of its members, Michelle Dugan of The Mortgage Connection in Madison Mississippi suggested the group pick this up and do the same in their respective towns and states. The suggestion caught on immediately and before long the Loan Officers in this group who are spread across the country started collaboration and agreed to participate.
Within a couple of hours over 35 of the top mortgage professionals in the country started coordinating efforts to send pizza's to their local Sheriffs, Highway Patrol, and Police Departments as a way of saying thank you and showing support.
Evan Wade of Movement Mortgage in Egg Harbor Township in New Jersey says "I saw the idea posted and immediately thought, heck yes let's do this" He goes on to say, "Our brave men and women in law enforcement put themselves out there every day, and I know many times it could probably be a thankless job, so when I saw the opportunity to give back, I thought it was fantastic".
Jeff Powers of Nations Reliable Lending in Cincinnati Ohio whose brother is a police officer hopes this effort will continue to spread and helps change attitudes toward Police. Jeff says "There seems to be too much of a negative tone towards Police with all that's been going on. I want to remind people that the .001% of bad does not out weight the 99.999% of the good Sheriffs, Highway Patrol and Police Officers who put their lives at risk for us daily." He goes on to say. "That's why I quickly jumped aboard and why I hope this effort will continue to spread through my community and others to bring more people and law enforcement together."
Indeed what started out as a single gesture from one person was now growing into a national movement picked up by a group of Mortgage guys who decided that they as a group can make a bigger impact.
Chasity Graff of LA Lending LLC in Baton Rouge, LA says "she got in on it hoping it would inspire others around the country to do similar things. I don't necessarily want people to send pizzas or even spend any money, I know not everyone can do that, but what I do want is for people to be aware. Be aware of what your local law enforcement officers go through daily and be thankful in a way that they can see it. If all of us went out of our way just a little bit to show our appreciation and support it would have the potential to bring tremendous positive change and that is what I think the country needs right now" Chasity was on to something because when these Loan Officers, reached out for help from their local community other people and businesses starting to jump on board by offering their foods at cost or providing other things that their local Sheriffs, Highway Patrols, and Sheriffs needed more of.
While many people tend to think they can't make a difference in the world, this group of mortgage pro's scattered across the country is proving otherwise. Their joint effort and collaboration has resulted in over 35 people in 35 different towns across the country bringing localized awareness and gratitude to their local Sheriffs, Highway Patrol and Police Departments.
Credit To Participating Loan Officers and Mortgage Companies:
Thank you to the following Loan Officers and Lenders across the country!!!
Michelle Dugan The Mortgage Connection Madison, MS
Steve Fingerman E Loans Mortgage Spring Hill, FL
Chasity Graff LA Lending, LLC Baton Rouge, LA
Evan Wade Movement Mortgage Egg Harbor Township, NJ
Corey Roediger CrossCountry Mortgage Ferndale, MI
Alex Jimenez AJ Nashville Team for Hancock Mortgage Partners Franklin, TN
Lori Saucier CrossCountry Mortgage Brecksville, OH
Markita Woods Queen of Mortgages Woodbridge, VA
Elizabeth Rose Hancock Mortgage Partners Grapevine, TX
Staci Stanley Fairway Independent Mortgage Denver, CO
Brian Swanson First Mortgage Company West Des Moines, IA
Kelly Belcher Key Mortgage Ink Plymouth, MI
David Goldberg CBC National Bank Shaker Heights, OH
Chris Burleson Guaranteed Rate Knoxville, TN
Gareth Beale Power Mortgage Baton Rouge, LA
Jeremy Lewis AMP Lending Austin, TX
Katy Parsons Finance of America Mortgage Portland, OR
Scott Edwards Augusta Financial Inc Santa Clarita, CA