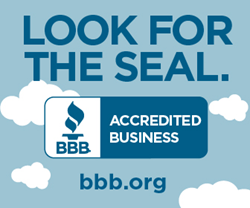 Because we touch people's lives in many ways, we consider BBB accreditation a yardstick of integrity.
Santa Clara and San Jose, CA (PRWEB) July 16, 2016
The San Francisco 49ers have earned accreditation from the Better Business Bureau, meeting the BBB's rigorous and objective standards for ethics and trust.
"Every day, in every interaction, we work hard to earn and maintain the trust of our fans and the community and aligning with the BBB helps us remain true to that mission," says Al Guido, 49ers President. "Because we touch people's lives in many ways, we consider BBB accreditation a yardstick of integrity."
The 49ers join thousands of Bay Area businesses that are BBB accredited, including eBay, HP and Netflix.
"The 49ers are a treasured institution and one of the preeminent sports franchises in the world and their actions are in accordance with their values," says Steve McFarland, President & CEO of Better Business Bureau Serving Silicon Valley, which includes Santa Clara County, where the team is headquartered. "BBB accreditation signals the team's commitment to treat fans and the community with respect and be a good citizen."
The 49ers were formed in 1946 and were one of the first professional sports franchises to originate on the West Coast. From the early days in Kezar Stadium to the glory years at Candlestick to today's full-on experience at Levi's Stadium, the Niners have inspired unparalleled allegiance from their fans, known as The Faithful. The team boasts 24 NFL Hall of Famers, including 22 players, Bill Walsh, and Eddie J. DeBartolo Jr., five Super Bowl titles and seven NFL Most Valuable Players. In the community, the 49ers Foundation supports development programs for underserved youth. Since 1992, the Foundation has donated $34.6 million to non-profits, contributing $4 million in 2015.
Read the 49ers BBB Business Review. Learn more about becoming a BBB Accredited Business.
About BBB
For more than 100 years, Better Business Bureau has been helping people find businesses, brands and charities they can trust. In 2015, people turned to BBB more than 172 million times for BBB Business Reviews on more than 5.3 million businesses and Charity Reports on 11,000 charities, all available for free at bbb.org.