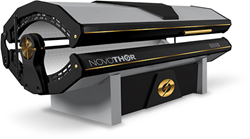 The NovoTHOR Whole Body Light Pod received the award for Innovation of the Year at the 2016 Elite Sports Performance Expo in London.
Dallas, TX (PRWEB) July 18, 2016
CryoUSA Solutions℠, the world's leader in providing whole body cryotherapy, is pleased to announce that after months of rigorous testing, they are adding the award-winning NovoTHOR Photobiomodulation Therapy to their vetted recovery protocols and is now a Channel Partner with NovoTHOR.
"Recovery is as critical to the human body as is exercise, training, and nutrition" said Mark Murdock, Managing Partner at CryoUSA Solutions. "At CryoUSA Solutions, we are not only witnessing more and more people begin to understand this, but we're driving the process by vetting recovery products around the world. NovoTHOR, out of countless recovery modalities tested and discarded, has been chosen as one of the top recovery technologies ever created, and we're excited about bringing this therapy to our clients in collegiate and professional sports, as well as to the nearly 200 retail locations that have already invested in cryotherapy."
The NovoTHOR Whole Body Light Pod, which received the award for Innovation of the Year at the 2016 Elite Sports Performance Expo in London on June 16th, is the world's first and only whole body Photobiomodulation Therapy (PBM Therapy) unit. PBM Therapy, previously known as Low-Level Laser Therapy, is the application of red and near-infrared light to tissue where there is degeneration or injury, to improve, repair, and reduce inflammation and pain. This is achieved via PBM Therapy's ability to reduce oxidative stress which is accepted as the underlying trigger for most diseases and degenerative conditions. Oxidative stress is also a component in the inflammatory phase of acute and chronic injuries.
Intended uses of PBM Therapy include:
Restoration of motion to joints
Improved muscle performance
Decreased post exercise soreness
Adjunct to obesity as part of a diet and exercise program
The clinically-proven benefits of red and near-infrared light are:
Less pain and inflammation
Faster rate of recovery after injury
Earlier return to physical health
Reduced fat and cardiometabolic risk factors
Less soreness after exercise, faster recovery from exercise
CryoUSA Solutions was formed to provide active recovery and unmatched customer experience to anyone seeking to improve their quality of life and enhance an active lifestyle. This is accomplished by continual and diligent research, testing, education, and discovery of the most innovative recovery technologies in the world. Offering revolutionary, whole body cryotherapy along with other leading recovery modalities, CryoUSA Solutions has set the industry standards for safety, equipment, and reliability. And while professional sports teams, the world's most elite athletes, and celebrities have trusted CryoUSA Solutions as their provider in recovery, individuals across the country can benefit through the nearly 200 whole body cryotherapy recovery centers they have helped launch.
"We are thrilled that CryoUSA Solutions has fully vetted and incorporated our NovoTHOR PBM therapy into their portfolio of recovery protocols," commented James Carroll, CEO of NovoTHOR. "Reducing oxidative stress, which is essentially an imbalance between the production of free radicals and the ability of the body to counteract or detoxify their harmful effects through neutralization by antioxidants, is critical in helping the body recover. And nothing reduces oxidative stress like NovoTHOR PBM Therapy."
About CryoUSA Solutions
CryoUSA Solutions is the established world leader in cryotherapy and recovery, providing unmatched expertise to numerous sports organizations. We are a Proud Partner of the Dallas Cowboys, SMU Athletics, and the Official Cryotherapy Provider of the Oregon Project at Nike and the Dallas Mavericks. Nine other NBA teams, Joe Gibbs Racing, and other NCAA teams have chosen CryoUSA Solutions as their cryotherapy equipment provider as well. In addition, we provide cryotherapy to athletes from USA Triathlon, USA Track and Field, MLB, UFC, the NHL and many others. Having installed over 160 cryotherapy units and helped start over 100 independent cryotherapy businesses nationwide, the experienced team members at CryoUSA Solutions are the go-to specialists in the recovery industry. To learn more about whole body cryotherapy and additional recovery modalities, visit http://www.CryoUSAsolutions.com.