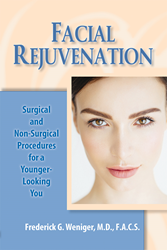 (PRWEB) July 14, 2016
Well-recognized plastic surgeon Dr. Frederick Weniger has written a book titled "Facial Rejuvenation" in which he explains the process of both nonsurgical and surgical facial cosmetic procedures. A member of The American Society of Plastic Surgeons and the American Society for Aesthetic Plastic Surgery, Dr. Weniger draws on his vast experience to relate in laymen's terms the complexities of facial aging, the importance of cosmetic diagnosis, and the multitude of options available in today's cosmetic surgery market.
"I have long believed that there should be a book that explains how the face ages. Finally, after 4 years of work, I am thrilled to announce Facial Rejuvenation, the book that explains the aging process and how each component can be addressed with modern science," commented Dr. Weniger in regards to the release of his book.
A strength of "Facial Rejuvenation" is that Dr. Weniger compiled the education, resources, and insights he had gained over the past 15 years of his career, noting in the book's acknowledgements his beginnings at The University of Pittsburgh Division of Plastic Surgery, presentations and meetings at the American Society for Aesthetic Plastic Surgery and the American Society of Plastic Surgeons, and the collaboration of his surgical staff for their clinical experience.
Weniger Plastic Surgery is based in Bluffton, South Carolina. Dr. Weniger has gained a reputation as one of the finest plastic surgeons in the region for his natural looking, client-driven result. He has received multiple accolades including being voted, "Best Plastic Surgeon" in Bluffton for the past eight years (2009-2016), and contributing to the Journal of the American Society of Plastic Surgeons. The surgical practice is affiliated with the LUX~A Medical Spa, which Dr. Weniger is a co-owner in, and offers nonsurgical cosmetic treatments including Botox injections, laser resurfacing, and micro laser peels.
While not managing his busy practice, Dr. Weniger is an active member of the greater Hilton Head Island community. He frequently participates in charitable causes throughout the area as well abroad. He has participated in a mission trip to Guatemala to assist children with cleft lips and palates, finding a passion for bringing his talents to those in need.
The amount of time and hard work that went into this book was truly a labor of love. Dr. Weniger wanted to make sure he used the best publisher, had the most up to date information for his readers, and as many before and after images of his actual patients he could use.
Dr. Weniger's book, "Facial Rejuvenation," was edited and published by Addicus Books, a nonfiction publisher focused on consumer health titles and based in Nebraska. Signed copies are available for sale at the Weniger Plastic Surgery office in Bluffton, South Carolina.
Contact:
Weniger Plastic Surgery
350 Fording Island Road Suite 200
Bluffton, South Carolina 29910
843-757-0123
http://www.wenigerplasticsurgery.com/