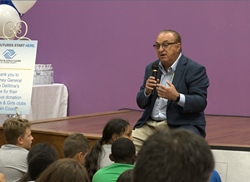 If you complete this program and graduate from high school with a C average, I will give 10 of you a free education to Lorain County Community College with my own money
Lorain, Ohio (PRWEB) July 15, 2016
The Boys & Girls Clubs of Lorain County honored Equity Trust founder Richard Desich Sr. and his family July 12 during a ceremony to dedicate its newest facility, and Desich furthered his family's generosity by offering a gift of free education.
The newly named Boys & Girls Clubs of Lorain County Desich Family Campus is located about 30 miles west of Cleveland, in Desich's hometown of Lorain. The new facility exists because of the Desich family's 16-acre land donation to the organization. At the ceremony to reveal the name, Desich shared that his education, including attending community college, helped him become a successful entrepreneur. He also offered a challenge and a promise to the young club members in attendance:
"If you complete this program and graduate from high school with a C average, I will give 10 of you a free education to Lorain County Community College with my own money," said Desich, who was a member of the Board of Trustees at the college for more than 30 years.
The Desich family's contribution and impact to the Lorain Boys & Girls Clubs reaches beyond the land and education donations. Equity Trust Executive Director Richard (Rich) Desich Jr. is a member of the Boys & Girls Clubs of Lorain County Board of Trustees. Inspired by the family's generosity, employees at Equity Trust Company have designated the Boys & Girls Clubs' Oakwood facility as the primary recipient of their philanthropic efforts. Employees have donated thousands of dollars and countless hours to the organization.
The Desich family's land donation has led to generous support from other community partners, including a grant from Ohio Attorney General Mike DeWine's office, which was also recognized at the ribbon-cutting ceremony. Many other individuals and organizations have stepped up to contribute to the club and support the club's mission of fostering academic success and character building for the youth of Lorain County.
About Equity Trust Company
Equity Trust Company is a financial services company that provides a platform for individual investors, financial professionals and institutions to invest in alternative asset classes, including real estate, tax liens, private equity and precious metals. The Equity Trust family of companies offers custodial services for alternative investments, investment in alternative assets with individual retirement accounts, back-office solutions for RIAs, brokerage services, directed trustee services and more. Equity Trust Company evolved from a predecessor brokerage firm which started in 1974, to a financial services company today serving more than 300,000 accounts, representing over $30 billion in assets under custody and administration.
About The Boys & Girls Club of Lorain County
With 14 locations, the Boys & Girls Clubs of Lorain County serve more than 2,500 of Lorain County's most disadvantaged youth, who learn from positive role models in a safe, structured environment while participating in proven, character building programming. More than 700 members attend the clubs each day. The organization's mission is to empower all young people, especially those who need it most, to realize their full potential as productive, responsible and caring citizens.
Equity Trust is a passive custodian and does not provide tax, legal or investment advice. Any information communicated by Equity Trust is for educational purposes only, and should not be construed as tax, legal or investment advice. Whenever making an investment decision, please consult with your tax attorney or financial professional.
##