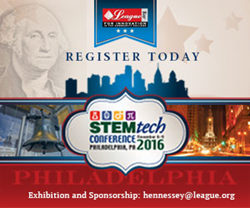 Chandler, AZ (PRWEB) July 19, 2016
John O'Brien, President and CEO at EDUCAUSE, will provide the opening keynote address at the 2016 STEMtech Conference in Philadelphia, Pennsylvania, November 6-9, according to the League for Innovation in the Community College. Throughout his 25-year career in higher education, O'Brien has deeply engaged with the IT and educational technology sectors. Most recently, he served as Senior Vice Chancellor for Academic and Student Affairs at Minnesota State Colleges and Universities (MnSCU), where he was dedicated to ensuring student success and implemented strategic changes to help MnSCU adapt to the evolving needs of higher education. O'Brien also served as President of North Hennepin Community College (NHCC) and Director of MnSCU's Students First initiative, a systemwide effort that redesigned online systems to better meet students' needs.
With O'Brien's keynote address and approximately 200 other presentations by community college practitioners, scholars, and innovators, the League's STEMtech Conference brings you the best of STEM education, analytics, big data, advanced technology, and learning management architecture. Join colleagues at this international convening to share and explore research, best practices, and new ideas.
League corporate partners are strongly encouraged to submit proposals to present and should also consider one of the many available sponsorship and advertising opportunities.
Visit the STEMtech website to learn more about this innovative and thought-provoking professional development experience.
About the League for Innovation in the Community College
The League for Innovation in the Community College (League) is an international nonprofit organization with a mission to cultivate innovation in the community college environment. The League hosts conferences and institutes, develops print and digital resources, and leads projects and initiatives with almost 500 member colleges, 100 corporate partners, and a host of other government and nonprofit agencies in a continuing effort to advance the community college field and make a positive difference for students and communities. Information about the League and its activities is available at http://www.league.org.